Guardians of Nimla Ha Appeal with the World Land Trust
Do you want to help elephants?
Join in lots of other supporters and support Project Mongma Rama!

There's a great opportunity for many people to pull together and make a difference to wildlife in India.
The World Land Trust and the Wildlife Trust of India (WTI) have been working together since 2003 to protect 4,000 hectares of elephant corridors in the Garo Hills of Meghalaya Sate. Meghalaya means "abode in the clouds", and the land there is full of dense canopy. It sits at the foothills between Bangladesh and the Himalayas.
The Garo Green Spine project has shown that wildlife and people can thrive together when there is enough nature for everyone. Since 2003, 4,000 hectares of elephant corridors have been protected in the Garo Hills – and the plan is to safeguard another 4,000 hectares. Enter Project Mongma Rama (meaning Project Elephant Paths).
Project Mongma Rama
Between 20021 and 2026, WTI aims to establish a corridor of protected land between the Nokrek National Park and the Emangre Reserve. It will be made up of Village Reserve Forests and Community Reserves, and these will be owned and monitored by A'Chik Mande communities.
The A'chik Mande people have lived in the area for many years, living off the land sustainably and allowing nature to replenish. Sadly now, recent development and the risk of mining projects means that it is vital to protect this land.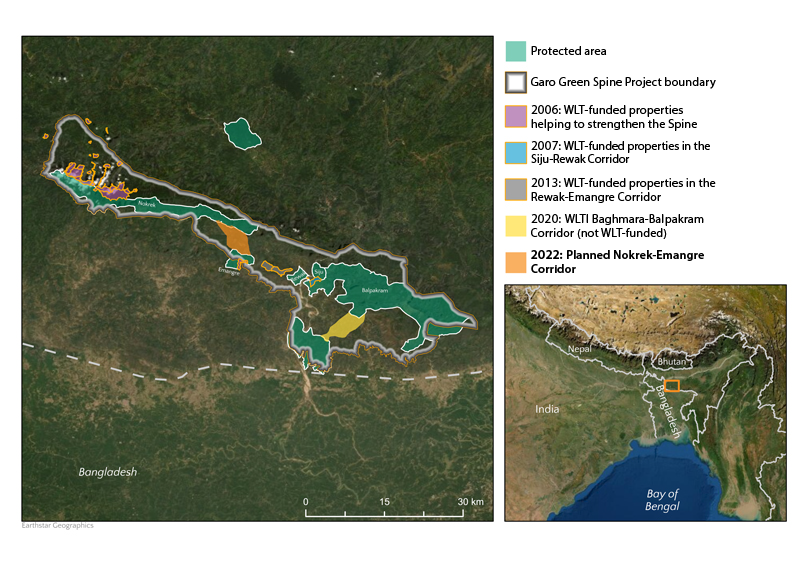 The World Land Trust's map shows what a difference this appeal will make
and how much it will extend the reserves and join them together.
©Earthstar Geographics
Project Mongma Rama aims to raise £350,000 to protect a crucial corridor in India's Garo Hills. These protected areas will then stretch across the length of the Garo Green Spine, about 50 miles long from east to west.
The degraded forest habitat will be restored, and the land protected through village management plans, created in consonance with the wildlife movement and biodiversity conservation.
Of the 4,000 hectares to be safeguarded, half of those will be supported by Project Mongma Rama. The other half will be supported by a corporate supporter.
What will the appeal mean for wildlife?
The appeal will protect a crucial 4th wildlife corridor in the Garo Hills, connecting a chain of habitats between the Nokrek National Park and the Emangre Reserve.
The area is home to 206 bird species, 62 reptile species, 124 fish species and 85 mammal species. Amongst these are India's only ape, the endangered Western Hoolock Gibbon, as well as tigers, the Chinese pangolin, the Sambar deer, the Indian leopard and the clouded leopard.
Asian elephants will benefit hugely as they make their way through the forest and take a dip in the ponds. This will help human-elephant conflict, as it will give both elephants and people the space they need. Nokrek on its own has over 1,500 species of plants.
Join in this Appeal!
Will you join this band of supporters and donate to this appeal? I've been a supporter of the World Land Trust for years and I just love its work. There's nothing like a group of people pulling together and uniting to help nature – it is incredible what we can all do, wherever we are in the world!
The target amount is £350,000 and the appeal is 33% of the way there already (28 April 2022)
Please donate to Project Mongma Rama
Find out more information about Project Mongma Rama
If you cannot donate, please spread the word!
Thank you!
October 2021: Guardians of Nimla Ha
The World Land Trust aimed to save Guatemala's Laguna Grande, an incredible network of mangroves, wetlands and forested lagoons in Caribbean Guatemala. Over 700 species call this home - the jaguar for instance - and it's a major carbon sink and a flood barrier for local people. It's also a stopover point for over 100 migratory birds. If the £1,200,000 appeal is successful (and we're all going to make it happen!), then over 3,000 acres of tropical forest will be protected! WLT is helping its partner, FUNDAECO, to buy three reserves - and that means they won't be sold for timber extraction.
Update: Success! Supporters raise over £1,300,000 for this appeal!
Images from this page copyright to the World Land Trust