World Ranger Day - Polar Bears International celebrates their polar bear patrol teams
Posted on
World Ranger Day continues to bring in news of the amazing work Rangers are doing around the world to help both people and wildlife.
Polar Bears International reports that as the sea ice has retreated from the north coast of Alaska, more polar bears are coming ashore.
In the town of Kaktovik, polar bears are feeding on whale-bone piles. They attract the highest density of polar bears anywhere in Alaska and tourists are arriving to take photos of them.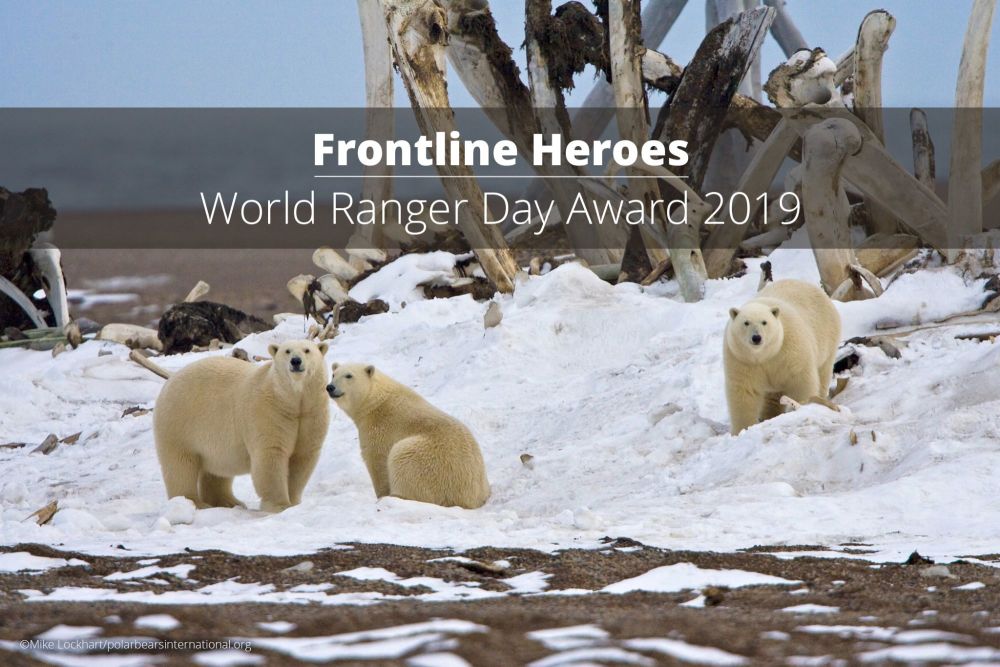 In northern Alaska, a polar bear family gathers at a whale carcass site
©Mike Lockhart, Polar Bears International


Keeping polar bears and people safe - Polar Bear Patrols
There hasn't been a polar bear attack in Alaska since 1993, and this is due in no small part to the commitment and courage of the North Slope Borough's Polar Bear Patrols. Communities support their efforts – it is in their interests to do so!
And to recognise the work that the Polar Bear Patrols have done, the North Slope Borough's Polar Bear Patrols have been awarded Polar Bears International's 2019 World Ranger Day Award.
The award is announced on World Ranger Day every year, and it's to recognise the frontline heroes who are working to reduce the people-polar bear conflict across the Arctic.
The members of these patrols can work under challenging conditions and face a considerable amount of risk. During the ice-free season, they work around the clock for months at a time to prevent incidents between polar bears and people happening.
Patrols are active in six coastal communities in Northern Alaska, including Kaktovik, Nuiqsut, Point Hope, Point Lay, Utqiagvik and Wainwright. They have all experienced problems with polar bears, from bears walking down streets in town to raiding food caches.
The award is rotated amongst the five polar bear nations – Canada, Greenland, Russia, Norway and the US. Past recipients have included the late Vladelin Kavry of Russia's Umky Patrollers; Churchill, Canada's Polar Bear Alert Team; and Wildlife Officer Erling Madsen of Ittoqqortoormit, Greenland.
The award can either be made to an individual or a team.
Find out how you can help Polar Bears International help polar bears. The site has some wonderful footage of polar bears and you can see where all the bears are being tracked to see how they are getting on.
You can adopt a polar bear, too! And there are plenty of ways you can help polar bears by making lifestyle changes - find out what they are here!
Thank you to everyone who works to help keep polar bears and people safe.