Wildlife Trade
Demand world leaders end the global wildlife trade. Forever.
It's high time the wildlife trade was brought to a stop. It is far bigger than most of us realise. World Animal Protection says that thousands of wild animals are poached or farmed and sold into the wildlife trade every single day.
The trade is cruel and it puts human health at risk, too. Look what it's done to life in 2020 with COVID-19!


"Wild animals don't belong to us; they belong in the wild."
World Animal Protection
To show how truly global and enormous the wildlife trade is, World Animal Protection has a world map. You can jump from Europe, North America, South America, Asia and Africa to find out how wildlife are moving in trade from one area to another. They have also produced a video:
What you and I can do about it
G20 global leaders meet on 21 and 22nd November 2020 and they will focus on dealing with the pandemic. They will coordinate a global response.
The way forward to deal with it must include a commitment to ending the global wildlife trade FOREVEVER. Words and good intentions to stop it are not enough from our world leaders. Too many have scant regard for nature.
This will help prevent future pandemics – and it will protect millions of animals.
So World Animal Protection have a petition you and I can sign calling on our global leaders to protect wild animals, our health, the environment and the economy. And having signed it, we can share it and ask everyone to sign and share it too.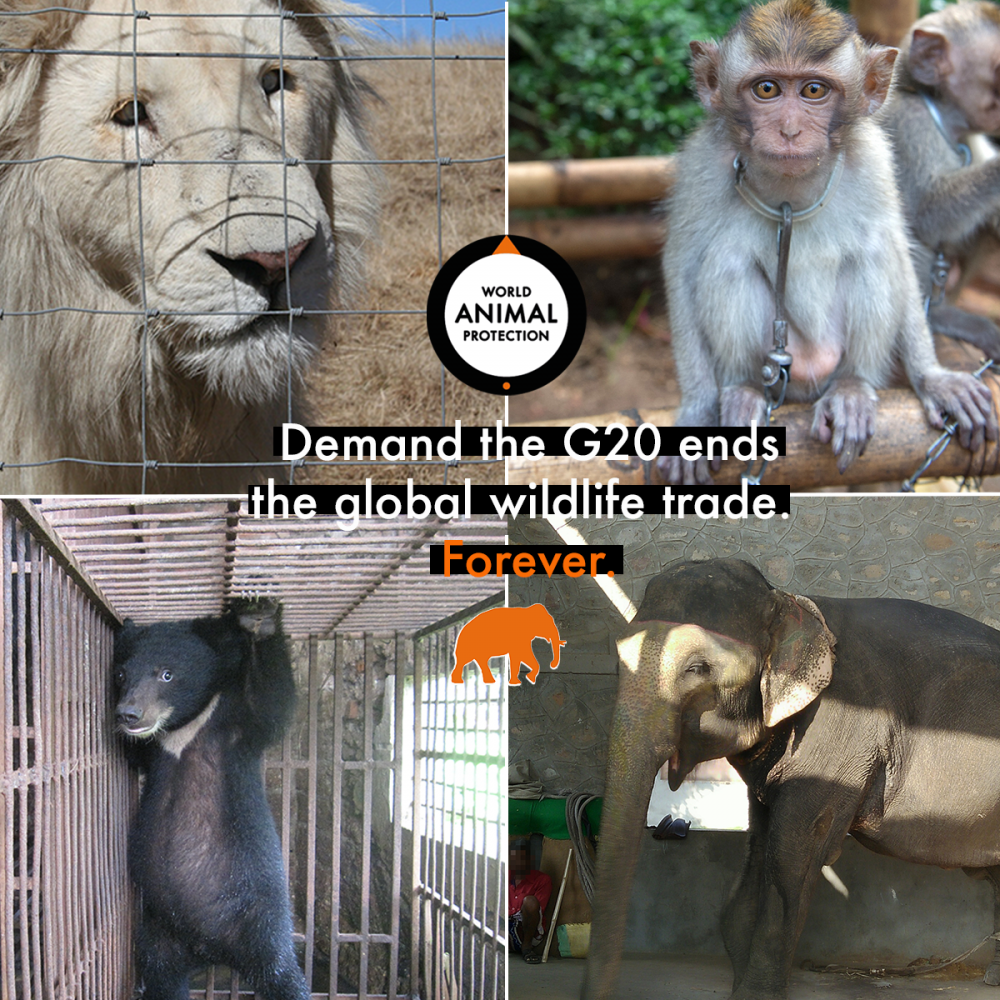 Image © World Animal Protection


Every day that our world leaders won't and don't take action, thousands of wild animals are poached or farmed. They are sold into the enormous wildlife trade where they become food or pets, or they are used for medicinal purposes and entertainment.
On 7th October, World Animal Protection are posting a story of cruelty from the trade on social media every single hour to show just what this terrible industry is doing to wildlife.
We need to stop this trade and urge our global leaders to stop it.
Please sign the petition today and share it


#EndWildlifeTrade