Wild Koala Day is on 3rd May
Do you love Koalas?
The 3rd May is Wild Koala Day. It's an opportunity to celebrate koalas and to protect their habitat, which is rapidly vanishing.
#wildkoaladay
Koalas need forests. A koala can't eat money – they need forests. And the koala lovers and conservationists who founded Wild Koala Day are calling on three groups of people to stop their rot.
Developers, they say: find land elsewhere to build on such as old industrial land and mining land, or renovate old housing developments.

Miners: mine sites must be rehabilitated after the mining companies have finished with them – this is law. But it almost never happens.

Politicans and planners seem to be more intent on siding with developers and miners.
Wildfires are also destroying koala habitat because of our changing climate – firefighters with many years experience say they have never experienced such intensity and ferocity in the fires they are fighting. And koalas, along with a whole host of other wildlife, are really suffering death and injury because of them.
Once land is gone and built on, it's gone.
So on Wild Koala Day, there are three things we can all do to help koalas.
Register to plant a tree

Sign a petition to protect a forest

Call a politician to show them you care about koalas and they need to stop killing koala trees.
The website Wild Koala Day has more detail on how you can do this – far be it from me to repeat it; I'd rather you head straight to the website and get stuck in to help.
You can find out about the conservation groups involved in koala conservation from the website in Queensland, New South Wales, Victoria and South Australia - why not take a look and see what you can do to help them or one of them?
You don't have to live in Australia to help - these days there are plenty of ways to make a difference from a distance. In fact, there's an International section with links to a couple of Facebook groups, one of which is called the Koalition. As they say, united we stand!
There's also a group called International Koala Intervention - visit them here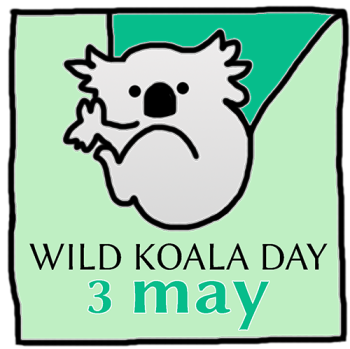 Don't forget to spread the word! #wildkoaladay