Please help the Maasai and wildlife with this URGENT appeal
SumOfUs have an urgent appeal. Elephants and the Maasai need our help – they need us to come to their rescue!
What's the problem?

International investors want to buy an essential breeding ground for elephants. They are coming in with offers fast.


What's the solution?
We need to move fast! The indigenous leaders run a very successful conservancy. The sellers say that if they can show they have what's needed to acquire the land and remove the fencing threatening migrating herds, they've got a deal.
200 dollars will empower the community to grow the conservancy
by an acre of essential land.
If 40 people reading this donate five dollars, that's an acre saved.
And we could all unite to help create the longest wildlife corridor in East Africa!
The more money we all raise, the more land the Maasai can clear, maintain and expand the land – and help thousands of species.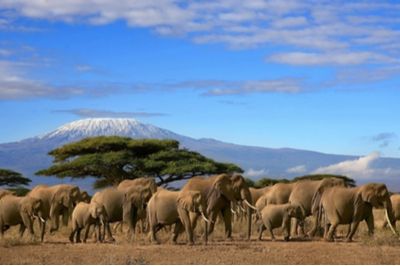 Please join the journey to create the longest wildlife corridor in East Africa!
image ©SumOfUs


Private landowners have fenced the Maasai Mara for years – but wildlife need to be able to roam free to survive. Many wildebeasts and giraffes and other wildlife have got trapped in the wire and suffered long painful deaths.
The Nashulai Maasai Conservancy united 6,000 acres. People and animals live side by side and they are all doing well. The UN has recognised them for restoring a threatened ecosystem and reduced poverty as they trained and paid young people to patrol and protect the land. You can find out about their rangers here.
In five years, a once abandoned land has become home to 5,000 zebras and wildebeests, 100 giraffes and 5 elephant families. The jobs patrolling area give local people a livelihood and protects their land.
The locals need our help so that they can get rid of these fences and then get to work to protect and regenerate the expanded wildlife corridor.


Let's unite for wildlife and the Maasai! Together we can achieve GREAT things!
In the last two or three months there have been incredible examples of people across the world coming together to make a REAL difference. I'm thinking of the World Land Trust's Big Match Fortnight which raised £1.37 million to save Guatemala's Laguna Grande and more recently the epic evacuation of 286 cats and dogs from Kabul, Afghanistan to the safety of Canada. Thousands of people got involved on both occasions, and both missions succeeded. The power of the people and inspiring, courageous leadership won the day.
Please let's unite and join hands across the globe and stand up for these indigenous communities and the wildlife around them. We can do it if we all act together, however big or large this contribution is that we each make. These people and animals need our help today. Please don't wait. Get involved and make a difference we can all be proud of.
Read more about the campaigns SumOfUs have
Find out about the Nashulai Rangers