11 Ways to Help Snow Leopards
Memories from 2022...
Take a look at the favourite memories of the Snow Leopard Trust's Executive Director, Dr. Charu Mishra, from 2022. Watch the video here
The Snow Leopard is an elusive big cat. They aren't easy to spot, as they blend in well with their surroundings. Locals call them the "mountain ghosts".
Snow leopards live in Afghanistan, Bhutan, China, India, Kazakhstan, Kyrgystan, Mongolia, Nepal, Pakistan, Tjiskistan, Russia and Uzbekistan so they have quite a range covering roughly 2 million square kilometres, half of which are in China.
Snow Leopard conservation charities will be working closely with local communities to help local people co-exist with these magnificent big cats, and also to help them with ways to improve their living standards. This will help reduce the need for poaching and also reduce reliance on livestock.

The 23rd October is International Snow Leopard Day -
Make every day a Snow Leopard Day!
11 ways to help snow leopards.
1. Visit conservation charities focusing on Snow Leopards and their projects, such as the Snow Leopard Trust and the Snow Leopard Conservancy, and the WCS. Find out about them – their mission, how they are achieving it and what help they need to achieve it. How can you support their work? Take a look at their pages such as Getting involved/Support us

2. Understand the threats facing snow leopards – poaching, mining, climate change. Tell people that snow leopards are under threat. It's estimated that there are no more than 6,390 snow leopards living in the wild – and there may be as few as 3,920.




3. Watch snow leopard videos on You Tube or on the Snow Leopard Trust's website and lose yourself in the beauty of their world and the challenges facing local people living in the same area as snow leopards. Share videos you particularly enjoy so that you can show how amazing these animals are. Get closer to them - it will increase your desire to help them.
4. Adopt a snow leopard! The Snow Leopard Trust has e-adoptions so wherever you are in the world, you can adopt a snow leopard! This makes for a great gift for big cat lovers – your gift really is making a difference. You can even adopt Anu, a wild snow leopard! Find out more about the adoptions here

5. Find out about the Snow Leopard Network, a worldwide organization which facilitates the exchange of information and insights between individuals around the world with the aim of snow leopard conservation. Take a look at their Annual Report which celebrates 20 years of the Snow Leopard Network.



From CGTN Global Watch


6. Buy products from snow leopard conservation charities' online shops. Spread the snow leopard wonder! Take a look at the Snow Leopard Conservancy. You could also support Snow Leopard Enterprises. The idea is that herder women living in snow leopard habitat produce unique handicrafts, made with the natural resources they have. Snow Leopard Enterprises buys them and sells them online to snow leopard supporters worldwide! Families taking part can boost their income by up to 40% - and they pledge to keep snow leopards in their area safe.

7. Donate or become a monthly donor to the Snow Leopard Trust and be a part of Team Snow Leopard, or the Snow Leopard Conservancy

8. Panthera works in seven countries across Asia. Their scientists are conducting surveys on snow leopards and prey populations. They are training national biologists in conservation methods, assessing threats and securing habitat. They also mitigate human-wildlife conflict, working with local communities and help governments establish National Snow Leopard Action Plans. Their goals are to stabilize and recover snow leopard populations, understand and maintain habitat connectivity across its range and provide foundational knowledge to inform conservation action. Find out about their work to help snow leopards here

9. Get children involved too; they can learn about snow leopards with lots of snow leopard activities!
10. Visit the Bhutan Foundation. The Jomolhari Snow Leopard Conservation Project is an integrated approach to conserve an important snow leopard region in Bhutan. Find out all about it and see how you can help here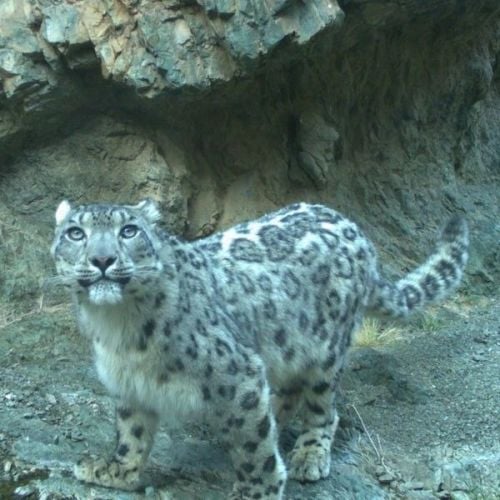 How about a Research Camera Adoption
to support snow leopard conservation?
£403.37
Image © Snow Leopard Trust
11. You could do a Research Camera Adoption with the Snow Leopard Trust and directly support snow leopard conservation. This would be quite an amazing gift for a snow leopard lover, as it includes a Personalized Research Camera adoption certificate, thousands of exclusive photographs from a real research camera trap, immediately available to download and a full camera roll from Mongolia, India and Kyrgyzstan! Find out more here