International Zebra Day and Protecting the Grevy's Zebra
The 31st January is International Zebra Day, and it's a great chance to raise awareness of zebra conservation and how you can help. For the Grevy Zebra is an endangered species.
The Grevy's Zebra Trust was founded back in 2007 to address the urgent need to conserve Grevy's Zebra in Kenya and Ethiopia. Registered in Kenya, it's the only organisation that's 100% dedicated to saving the Grevy's Zebra.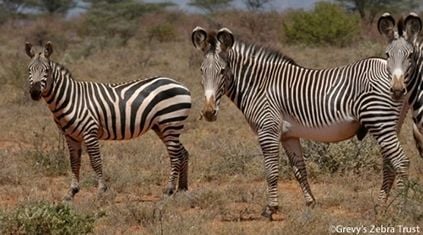 Find out more about the Grevy's Zebra
©Grevy's Zebra Trust

Working with the local community
The Trust recognises that zebras needs to be able to co-exist with people and that commuities must design and drive conservation efforts. So it works with communities who help monitor the zebra through citizen science, and it uses the data it receives about zebras to make informed decisions and come up with solutions for positive conservation results. Over 93% of the team is employed from communities in the zebra's range.
The Grevy's Zebra Trust's Scouts, Ambassadors and Warriors patrol the bush areas where they live. GPS collars help monitor zebra populations (including the reproductive status of collared Grevy Zebras) so that the Trust knows when foals are born.
They collect scientific data

They conduct conservation education outreach to schools and villages

They work with their families and communities to manage critical water sources for the zebras

Results are reviewed annually and then the teams make recommendations for zebra conservation, based both on the results and local knowledge.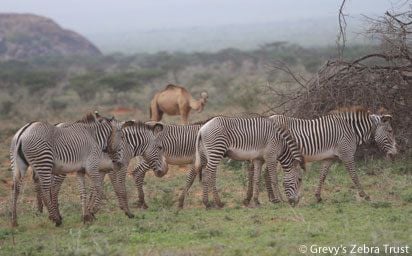 Find out more about the GPS tracking of Grevy's Zebra
©Grevy's Zebra Trust

Zebra Warriors monitor the zebra, raise awareness and protect the species. So they have a large network of local support via which they can send conservation messages quickly. It means actions such as dry season water management, mud rescue efforts and supplementary feeding can be put in place fast. This is vital in times of threats such as poaching, a lack of water, disease and mud flats. Animals such as zebra, ostrich, warthogs and livestock have been rescued from mud flats.
Grevy's Zebra Scouts

work part-time to monitor zebra and foster positive attitudes towards the species. Over 65% of the Zebra Scouts are women – many are able to provide medical care and education for their children as a result of their income.



And the results?
The persecution of the Grevy's zebra has lessened

There's less tolerance of conflict with wildlife

There's more awareness of Grevy's zebra and other wildlife in the community

Sick and dead animals are being reported


No water = no Zebra…




Zebras have limited access to water because of the semi-arid habitat they live in and the pressures for water as people, livestock and wildlife share the little available. The Trust manages water access in the dry season to reduce this pressure (which helps both zebra and other wildlife):


Constructing dedicated drinking troughs for wildlife at existing community bore holes

Digging shallow wells in dry season river beds, just for wildlife

Filling temporary troughs at wells which are too deep for zebra to access

Water Monitors from the local community manage the water points every day – and they monitor use of the water.

Camera traps to capture drinking activity in remote areas. This enables the Trust to use a

stripe identification method

to monitor the population as the zebras drink.
The plan to recover zebra populations:
There's a
Kenya's Recovery & Action Plan for Grevy's Zebra
(Equus grevyi)
in Kenya (2017-2026). It's being undertaken by the Grevy's Zebra Technical Committee with coordination led by the Kenya Wildlife Service.
Kenya's vision is: "To have viable populations of Grevy's zebra in their natural habitat, functioning in healthy ecosystems and valued locally and globally."
And the goal is: "To ensure increasing populations of Grevy's zebra and work towards fostering ecological, socio-cultural and economic sustainability within their natural range."
They are aiming to meet this goal by mitigating the threats to Grevy's zebra survival, increasing their numbers, and building a solid foundation upon which to sustain Grevy's zebra conservation in the long-term.
The Trust has many partners internationally and in Kenya and you can find a list of them here.
How to help zebras

Spread the word!
And you can donate to the Grevy's Zebra Trust here. You'll see that donations to the Trust are made through the Wildlife Conservation Network – 100% of your donation goes directly to the field to support the conservation of Grevy's zebra.
Marwell Zoo supports the Grevy Zebra Trust and it has a Just Giving campaign to raise funds for the Grevy Zebra Trust to help it buy food for the zebra during times of drought and to pay for its distribution.