Sponsor a Ranger

Sponsor a Ranger with the David Shepherd Wildlife Foundation
Anti-poaching rangers do some of the toughest jobs in the world – it can be extremely dangerous work as they strive to protect wildlife.
The David Shepherd Wildlife Foundation (DSWF, UK registered charity 1106893) support wildlife rangers in Africa and Asia; its mission is "to raise vital funds to support front line conservation projects which help secure a future for wildlife in their natural habitat". And one of the activities the Foundation does to achieve its mission is to fight environmental and wildlife crime through ranger programmes and law enforcement.
In Africa, rangers in Zambia's Kafue National Park and Namibian deserts protect wildlife. In Asia, DSWF's conservation partners provide support: operational support, training and welfare. In all, DSWF works in 17 countries across three continents and you can find out more here.
These rangers play an incredibly important role in protecting endangered species. They are protecting species such as elephants and rhinos, working at day and night in what can be very hostile conditions, often away from home.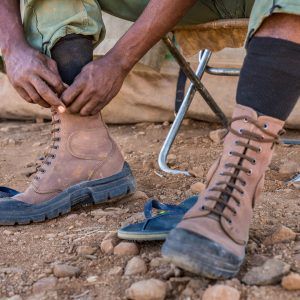 Rangers play a vital role in protecting wildlife and their habitats.
You could sponsor a ranger with the David Shepherd Wildlife Foundation
from £3.00 a month or £36.00 a year.
Image © Save the Rhino Trust


What do wildlife rangers do?
Rangers undertake anti-poaching and anti-trafficking patrols in national parks, and find and remove wildlife snares. They gather vital data on habitats and endangered species, and they respond to reports of wildlife crimes. This enables them to gather intelligence on illegal activities. Responsibilities vary but these are broadly the activities that DSWF-funded rangers take in Africa and Asia.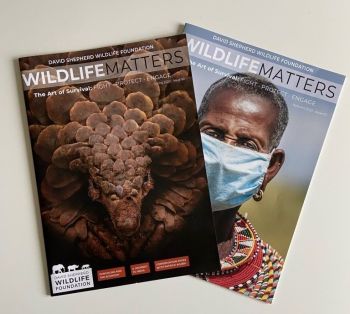 Sponsor a Ranger with DSWF and you'll receive the magazine Wildlife Matters
Image ©DSWF


What are the threats to rangers?
Many rangers have been killed protecting wildlife at the hands of poachers who are heavily armed and highly organised. The Rangers Federation has a Roll of Honour, a list of rangers who have been killed in the line of duty. It is estimated that 1,000 rangers a year are killed. They leave behind them loved ones.
Some people in the community may be on the side of poaching, seeing it as a form of employment.
And the landscape itself poses risks – rangers may face extreme weather, long and difficult journeys with little communication. Help may be difficult to access quickly when needed.
The very wildlife the rangers are working to protect may cause them death or injury, as the animals attack in fear, or lash out.
So rangers need to be well resourced and supported and equipped properly to tackle these challenges and keep themselves
We can show and give rangers our support
And one way we can show them that we appreciate all they do is to support them and show we haven't forgotten them.
They are key to protecting wildlife. Being a wildlife ranger means a man or woman can earn an income and support their family. They can help ensure wildlife survive and thrive by protecting them.


You can help: Sponsor a Ranger!
It's a great way to help the DSWF do three things:
Fight wildlife crime by empowering rangers
Give rangers the training and field gear they need, thereby protecting them
Engage with the wildlife rangers of the future, to encourage them to protect and fight for wildlife – wildlife has no voice.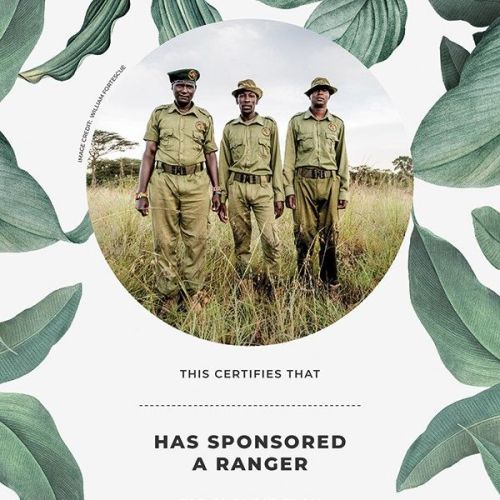 You'll receive a personalised sponsorship certificate
when you sponsor a ranger
Image ©DSWF

What do you receive with a sponsorship?
Sponsor a ranger and you'll receive:
A personalised sponsorship certificate, ranger fact sheet and photo
Wildlife Matters magazine which is a great read, and very informative
A beautiful ranger sketch print by Mandy Shepherd, wildlife artist
You can pay or renew your sponsorship by a regular monthly payment or a one off payment, and either receive a physical pack ( you need to be in the UK for this) or a digital adoption pack through email – this latter way is great for overseas sponsorships!
And if your sponsorship is a gift for a nature lover, it's a great way to give a meaningful gift - perfect for wildlife and nature lovers who have everything and want to protect and help wildlife!


How your sponsorship helps:
£3 a month or £36 a year can help fund wildlife training and welfare programmes, supporting the courageous men and women on the front line
£5 a month or £47 a year can help make sure rangers have all the equipment they need to keep themselves safe and do their jobs
£10 a month or £60 a year enables anti-poaching ranger patrols to monitor illegal activity – and this ensures wildlife safety.