Stop mowing some of your lawn! Together we can all make a difference
What can you do for nature?
Turn your lawn (or some of it) into a biodiversity hotspot!
In the month of May, you can help increase biodiversity in your garden by not moving your lawn! This can be part of Plantlife's #NoMowMay campaign, when the charity Plantlife are asking us all to do two things:
To leave our lawns uncut for the month of May again as they run their #NoMowMay campaign. In the last three years, Plantlife say that the number of people who have chosen not to mow their lawns has trebled.

To continue to mow less and at different lengths and frequencies during the summer.
In 2021, 78.8% of people who took part didn't mow their lawns for a month before the survey; back in 2019, 33.6 didn't mow. This shows a big transformation in approach to our lawns.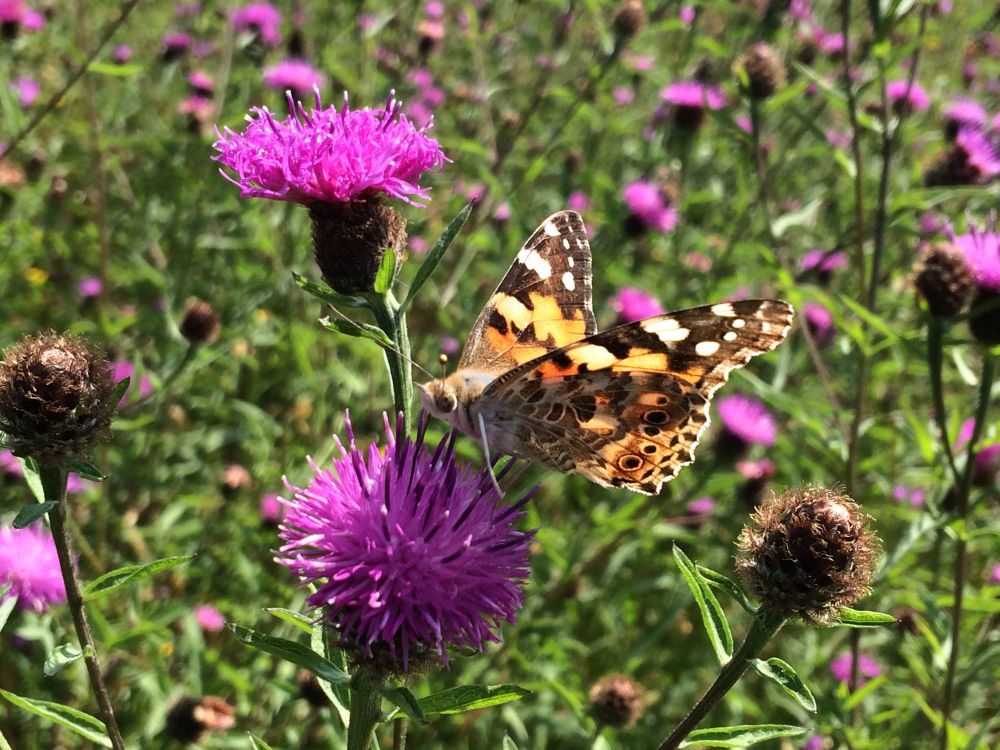 This Painted Lady was recorded on common knapweed, photo copyright Trevor Dines


If you mow less often, and leave lawns at different lengths during the summer, you'll have lots of wild flowers, insects and birds.
Whereas you might normally be racing up and down and cutting your lawn, or trying to think of an excuse to put it off, you can sit and enjoy your own nature show, or just contemplate how important nature is, whilst your lawn grows.
There's an "Every Flower Counts" survey in the last week of May; people recorded all sorts of different things last year.
The non-mowers back in May back in 2021 reported over 250 different plants among the grass. These included wild strawberry, wild garlic, and some rare species. An adder's-tongue fern, meadow saxifrage, snake's-head fritillary and eyebright. Wild orchids (including some which have really declined over the years) were spotted.
And there were 25 types of butterflies and moths and 25 different bees.
A typical lawn had 17 daisies in a square metre patch, with some buttercups and dandelions. Field-forget-me-knots were often spotted.
In May 2021, survey participants counted over 465,000 flowers – including nearly 250,000 daisies!
Flowers produce nectar and pollen for insects and wildlife particularly like dandelions. Plantlife say, "Just 8 dandelion flowers could produce enough nectar sugar to meet an adult bumblebee's baseline energy needs."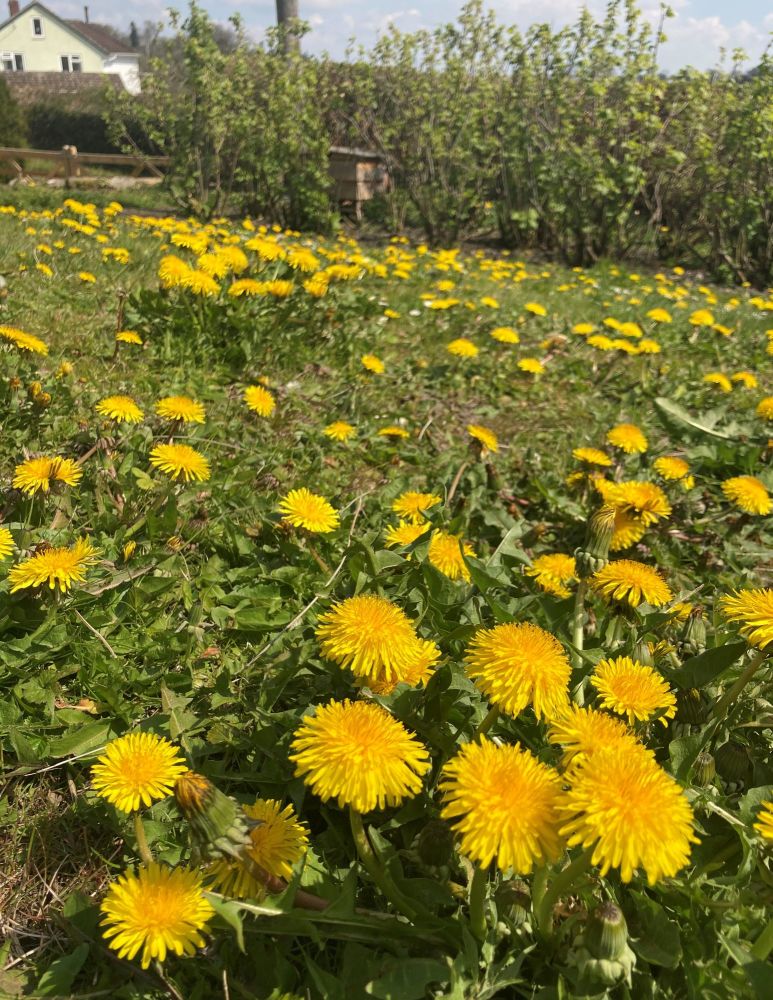 Wildlife love dandelions! Photo copyright Archie Thomas


So go wild in your garden – give up mowing – and just wait to enjoy the results!
Let Plantlife know your results!
At the end of May, you can take part in the survey Every Flower Counts. It only takes a few minutes to do – get your children involved! And you don't have to count the entire garden, either (although it would be interesting to compare the difference between a mown area of the lawn and one which you left unmown).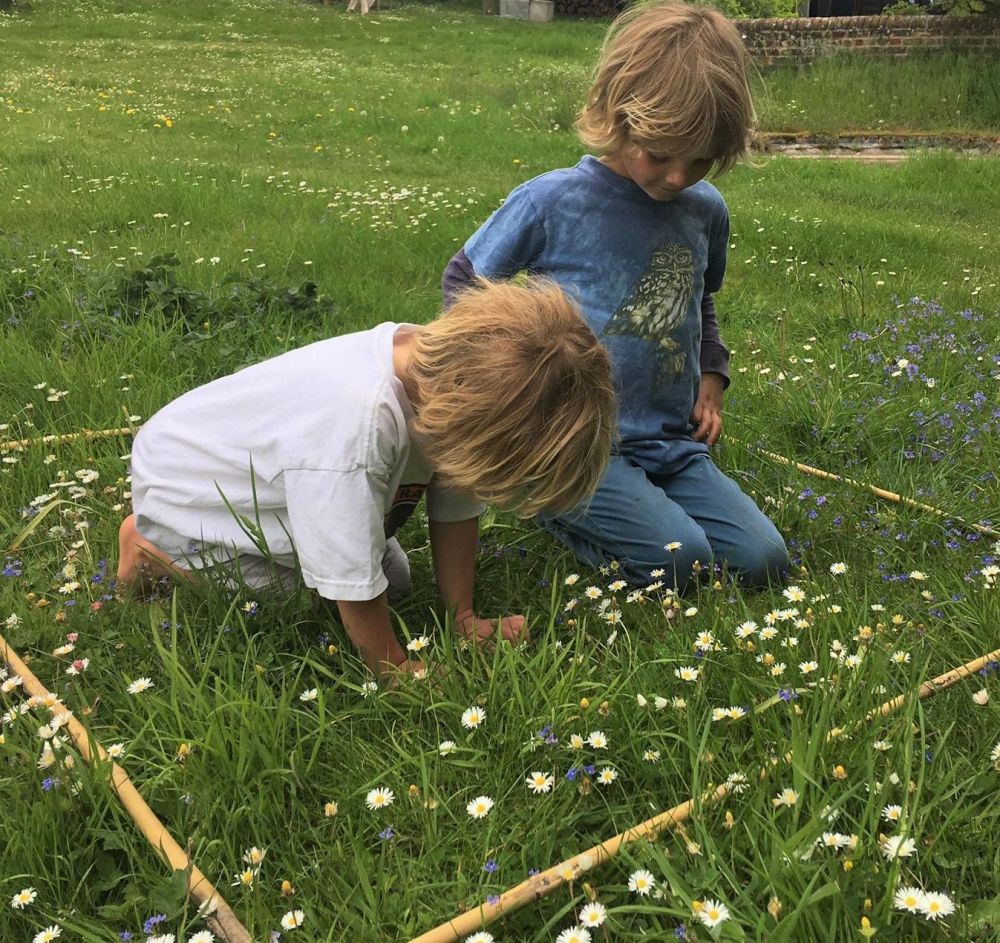 The whole family can get involved in counting the flowers in your lawn!
Photo copyright Archie Thomas


You submit your results online, and then receive your own Personal Nectar Score. This shows how many bees your lawn can support. All the results give Plantlife an idea of the nectar the average UK lawn can produce.
When you sign up to Every Flower Counts, you'll get some simple wildflower identification help for 26 common lawn flowers.
You've also got the chance to repeat the survey in late July and let Plantlife know what you find. This could be a great summer project for the whole family to get involved in.
Plantlife works to save wild flowers, plants and fungi. Why not become a member to support it?