#NoMowMay 2023
Derbyshire Wildlife Trust have a Grow Don't Mow campaign - Find out more

English Heritage are creating and/or enhancing 100 meadows across their properties. Find out more

The Wildlife Trusts have lots of ways you can make your garden wildlife friendly
including planting pots/containers. Find out more here
#NoMowMay
No Mow May is back in 2023 - and it's been spreading!

The UK has lost almost 97% of meadows rich in flowers since the 1970s. This means that essential food that pollinators need has gone. The habitat loss that pollinators have suffered from has been staggering and it doesn't help that so many people are in pursuit of a perfect lawn. Woe betide if it's too long or too short! And yet, gardens can be a wonderful habitat for wildlife – if only we are all willing to share some of it with them and give them a helping hand.
Given that there are over 20 million gardens in the UK, even small grassy patches can add up – and that means they can really help nature, our own wellbeing and the climate. English Heritage (working in conjunction with Plantlife) is creating and/or restoring 100 English wildflower meadows over the next 10 years to celebrate the Coronation of King Charles III – you can find out more about it here. But each of us can do our bit to help our pollinators and ultimately help ourselves, creating a healthier planet for everyone living on it. The more of us who get involved, the more impact we can make! Power to a mass group effort!
Wildflowers give nectar and pollen to pollinators – they will grow and bloom if we don't mow them down. Normally in May, lawns aren't at their full throttle of growth, so it's a good time to let them grow.


So what is No Mow May?

It gives you the chance to turn your lawn (or some of it) into a biodiversity hotspot! In the month of May, increase biodiversity in your garden by not moving your lawn, or some of it, at least. This can be part of Plantlife's #NoMowMay campaign, when the charity Plantlife are asking us all to do two things:
To leave our lawns uncut for the month of May again as they run their #NoMowMay campaign. In the last three years, Plantlife say that the number of people who have chosen not to mow their lawns has trebled.
To continue to mow less and at different lengths and frequencies during the summer.


No Mow May is spreading from the UK
The campaign is gaining ground, picking up speed in the US as well as the UK, as people discover the importance of wild flowers for our vital pollinators.
In the US, Beecityusa says that lawns cover 40 million acres – that's 2% of land in the US. And like in the UK, they are mowed, raked, fertilized, weeded, watered and chemically treated. This costs money, and time, and the planet's resources and perfectly manicured lawns do nothing or very little for wildlife. More cities and towns in the US are asking people not to mow in May – as if we all need an excuse! NPR says over 30 cities in the US (mostly the mid-west) are taking part.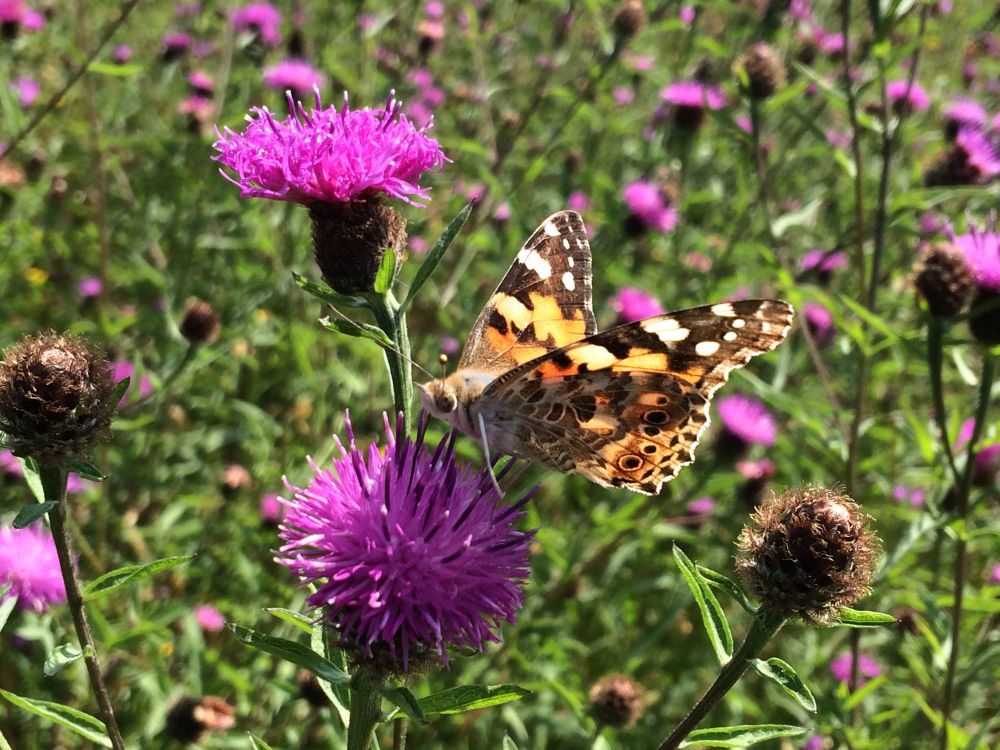 This Painted Lady was recorded on common knapweed, photo copyright Trevor Dines


If you mow less often, and leave lawns at different lengths during the summer, you'll have lots of wild flowers, insects and birds.
Whereas you might normally be racing up and down and cutting your lawn, or trying to think of an excuse to put it off, you can sit and enjoy your own nature show, or just contemplate how important nature is, whilst your lawn grows.
There's an "Every Flower Counts" survey in the last week of May.
But I love my lawn!!!
Outside of No Mow May, if the thought of turning the whole of your beautifully cared for lawn into an unmown state is filling you with horror, you could do a number of things:
Just give it a go with a small piece of lawn - you may be surprised at how many bees and butterflies you can support with a small patch. We all need bees and butterflies - they are essential pollinators.
Turn a small patch of lawn into a proper wildflower garden
Expand your borders and fill them with bee and butterfly friendly flowers
Add more pots and plant a pot for pollinators, if your garden is very small (or if it's large!). The Bumblebee Trust has a video on how to grow a wildflower meadow in a pot or container
PLEASE don't have artificial grass – it does nothing for wildlife or biodiveristy, or our wellbeing

Please give #NoMowMay a go!
Please take part in Plantlife's NoMowMay in 2023 – you can sign up for it here (it's free to register).
And there are resources you can use to spread the word on Plantlife's website. Find out more here (scroll down when you click through).
The more of us who can take part, the more Plantlife will get a clearer picture of how many gardens and green spaces are part of NoMowMay – and how much space has been freed and given over to nature this year. Nature needs every square foot we can give her.


Previous results...
In 2021, 78.8% of people who took part didn't mow their lawns for a month before the survey; back in 2019, 33.6 didn't mow. This shows a big transformation in approach to our lawns.
In May 2021, survey participants counted over 465,000 flowers – including nearly 250,000 daisies! The non-mowers back in May back in 2021 reported over 250 different plants among the grass. These included wild strawberry, wild garlic, and some rare species. An adder's-tongue fern, meadow saxifrage, snake's-head fritillary and eyebright. Wild orchids (including some which have really declined over the years) were spotted. There were 25 types of butterflies and moths and 25 different bees.
A typical lawn had 17 daisies in a square metre patch, with some buttercups and dandelions. Field-forget-me-knots were often spotted.
Flowers produce nectar and pollen for insects and wildlife particularly like dandelions. Plantlife say, "Just 8 dandelion flowers could produce enough nectar sugar to meet an adult bumblebee's baseline energy needs."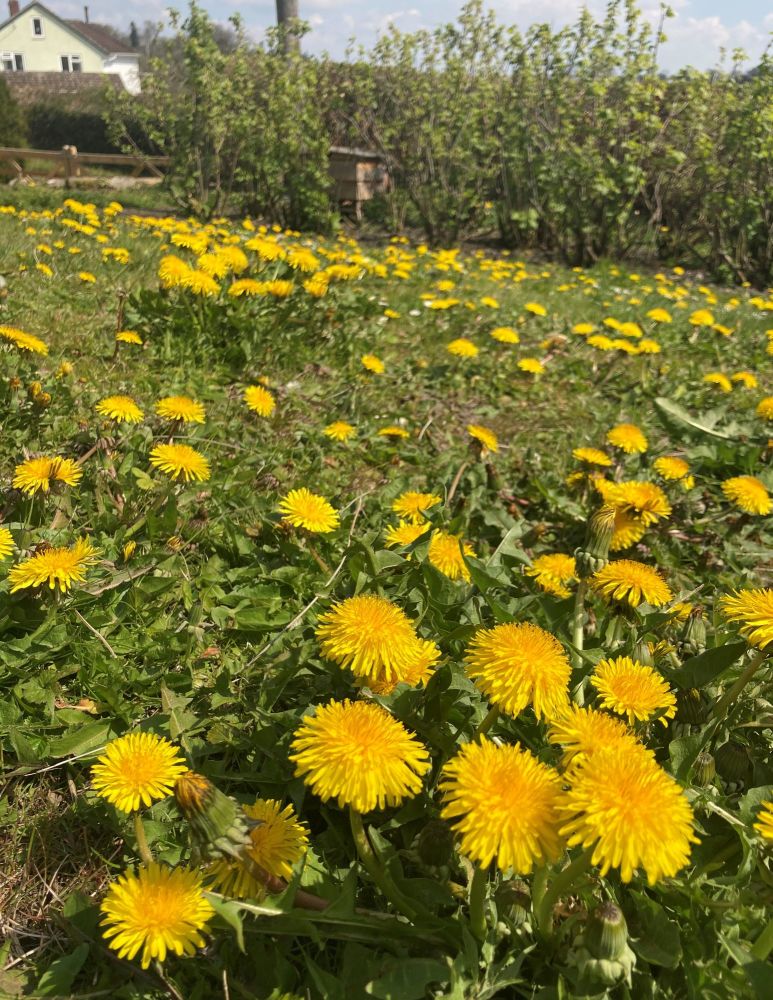 Wildlife love dandelions! Photo copyright Archie Thomas

So go wild in your garden – give up mowing – and just wait to enjoy the results!
Let Plantlife know your results!
At the end of May, you can take part in the survey Every Flower Counts. It only takes a few minutes to do – get your children involved! And you don't have to count the entire garden, either (although it would be interesting to compare the difference between a mown area of the lawn and one which you left unmown).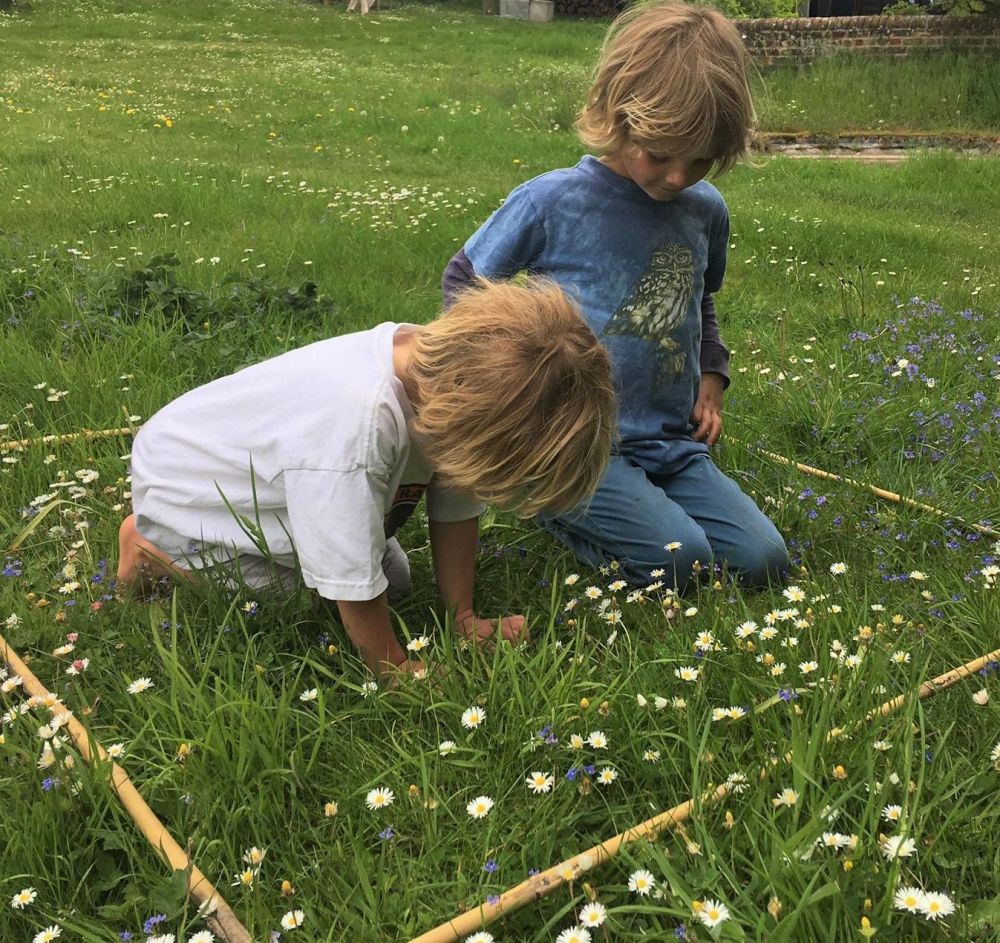 The whole family can get involved in counting the flowers in your lawn!
Photo copyright Archie Thomas


Submit your results online, and receive your own Personal Nectar Score - it shows how many bees your lawn can support. All the results give Plantlife an idea of the nectar the average UK lawn can produce. When you sign up to Every Flower Counts, you'll get some simple wildflower identification help for 26 common lawn flowers.
You've also got the chance to repeat the survey in late July and let Plantlife know what you find. This could be a great summer project for the whole family to get involved in.
Plantlife works to save wild flowers, plants and fungi. Why not become a member to support it?