The 8th June is World Oceans Day.
This year, 2023, the Conservation Action Focus is "protecting at least 30% of our blue planet by 2030 for a healthy ocean and climate".
At the UN Biodiversity Conference in December 2022 (COP15), our world leaders committed to protect at least 30% of lands, waters and oceans by 2030, in order to create a healthy ocean with lots of wildlife and to stabilise the climate.
Crucially, the 30x30 will protect our planet's life support systems – everything connects. At the moment, less than 17% of land and 8% of the ocean around the world is protected.
Now, to get involved in World Ocean Day 2023, there's plenty you can do – and some of it will take you no time at all!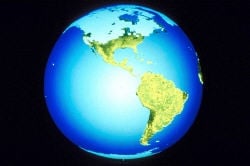 Why this is important to you
You can show your support and encourage world leaders to do just that with a fast survey, selecting your top three reasons to protect our lands, waters and oceans. It will literally take you a minute to complete. You can complete the survey on Survey Monkey here.
Share your opinion – there's an image QR code on World Ocean Day you can add to any flyer, poster or presentation slide to invite which means you can share why you care about protecting lands, water and ocean. There's a poster too.
Use the Action Guide!
There's an action guide to help you spread the word about 30x30 – tell people about this movement to protect 30% of lands, water and oceans by 2030.
There are images as well that you can download from the website – Do it for… the turtles, the ocean, the dolphins, the penguins, the future, the climate. Encourage dolphin lovers to help dolphins have a safe place in the ocean with an image you can download, so whether it matters to you for the wildlife, for livelihoods, for the beauty of the earth, for your spirituality – or places to rest, relax and enjoy leisure time, there's an image for you!
Attend an event if you can. There are lots of events around the world listed on the World Ocean Day website – or come up with your own event.
Find out what local conservation groups are doing near you and see what you can do to help them. They may not be actively promoting World Ocean Day themselves but you could see what is going on in your area to hit the 30x30 target.
Support an appeal in your area or somewhere in the world which is part of the 30x30 target. Every square matters.
Whatever you do, please do something. Every action helps.