El Pantonoso Reserve is 100% fully funded
Posted on
There's good conservation news from the World Land Trust today.
They've announced that the El Pantanoso Reserve is now 100% fully funded, which means that 10,900 acres is permanently protected through their partner Fundación Biodiversidad Argentina.
The reserve is a wildlife corridor of Yungas Forest. It sits between the Calilegua National Park and the Estancia Urundel, and it's Argentina's biggest area of Jaguar habitat.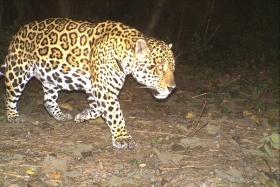 This project has also been supported by a legacy which was left by a supporter of the World Land Trust, so it just shows how legacies can make a difference to causes one cares about.
Arcadia, a charitable fund of Lisbet Rausing and Peter Baldwin, also supported the project. And it was secured by supporters of the Buy an Acre Argentina programme.
At the moment, the World Land Trust's Buy an Acre programme is focusing on Mexico at the moment, where a £100 donation can buy an acre of land. In Ecuador, land prices are going up, and it's not possible to buy an acre for £100, hence the focus on Mexico where the World Land Trust's partner Grupo Ecological Sierra Gorda can save habitats about £100 an acre.