Free the Bears are busy rescuing captive bears
Posted on
The charity Free the Bears are busy with rescue bears.
They rescue sun and moon bears held in captivity in Laos, Cambodia and Vietnam and they have a couple of bear sanctuaries where they look after the bears.
Last week, they took a tiny male moon bear cub- Laos Rescue 122 - into their care. He was an orphan and very traumatised, and weighed only 8.5 kg.
The little cub was spotted high up in a tree in the capital of Laos, Vientiane. Free the Bears think he probably escaped illegal wildlife traders who were trying to sell him in the city after poachers killed his mum.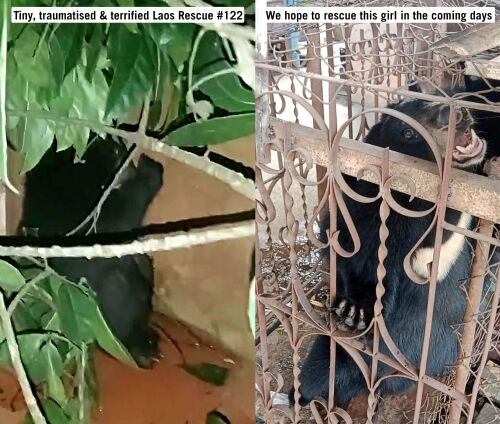 Visit Free the Bears to find out more about them.
Image ©Free the Bears


Visit Free the Bears You Tube Channel
to see videos of rescues and of the rescued bears.


This tiny bear is cowering in the corner of his quarantine den and Free the Bears say it is going to take a lot of expert, loving care to help him recover. He'll be in quarantine for a month, and then he may be introduced to a couple of other cubs who have also been rescued recently. This should help him recover and develop.
But there's more – Free the Bears have heard of a juvenile female mon bear, orphaned, and being held in a tiny cage. She is in the far north of Laos and she looks desperate. Free the Bears are working with government partners to sort out a rescue which hopefully will take place at the end of the week.
You can help these bears and Free the Bears help the bears by making a small donation or sending a Cub Care Kit to help Laos Rescue #122 – the little moon bear rescued up a tree. The kits are £19 each.
Why not be a bear carer? (This is from £5 a month) or consider volunteering with Free the Bears?
Let's help Free the Bears help free the bears – and care for them afterwards!
Find out more from their website.