Bangalow Koalas creating koala wildlife corridor
Posted on
Planting trees with Bangalow Koalas and IFAW
The IFAW (that's the International Fund for Animal Welfare) have planted 1,500 koala trees on Irish comedian Jimeion's property.
A number of private land owners in the Northern Rivers region of New South Wales, Australia, have taken action to keep the local koalas safe. They are allowing parts of their properties to be re-planted with eucalyptus trees. This means the koalas can have a safe haven and pass through the landscape.
The idea came from Bangalow Koalas who want to restore a koala wildlife corridor from Byron Bay to Repentance Creek. A neighbour of Jimeion kindly let everyone use his paddock so that they could get to the steep land behind Jimeion's property.
Over 120 people came to help, all wanting to help plant koala trees and secure the species' future. Amongst them were old and young volunteers – plus tourists from the UK and Germany. Imagine going home after your holiday and telling people you were part of a volunteer group which planted trees to help secure koalas' future!
The land had been prepared already and the holes pre-dug. Saplings had been provided – and all the volunteers planted 1,500 trees IN ONE HOUR! They trees were the koalas' favourite local food trees such as red gum, swamp mahogany, tallow wood and the important medicinal melaleuca that koalas eat from instinct when they don't feel well.
The trees grow quickly in the climate and in a few years they will be home for koalas, birds and native wildlife. And Jimeoin hopes that by planting trees on his land, the koalas will stay.
The key message IFAW want us to take from this is that yes, there are messages of loss and possible extinction of koalas. They are certainly in trouble. But there is hope – and crucially THERE IS A SOLUTION.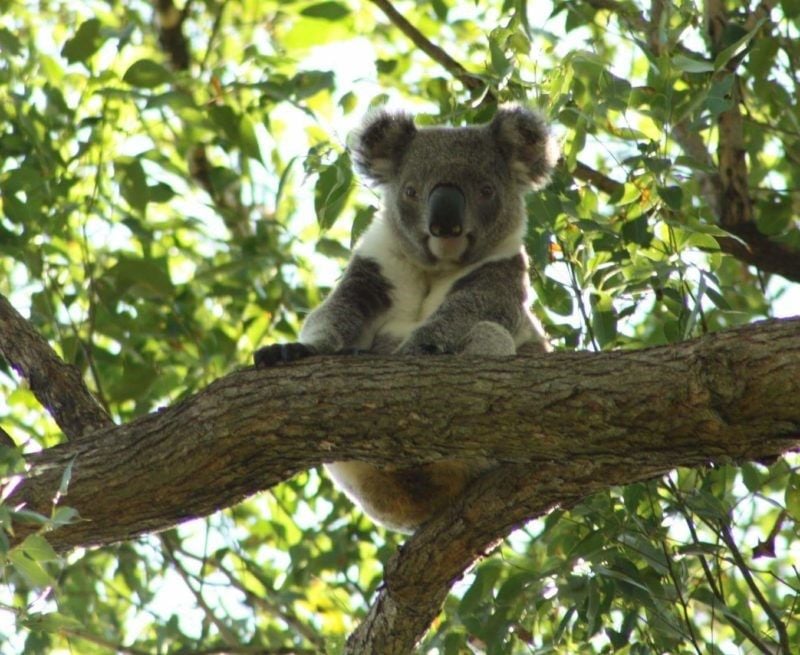 ©Bangalow Koalas

IFAW and Bangalow Koalas hope to plant 25,000 trees by the end of the year.

It's a fantastic thing to do and I hope they make it. A big thank you to both IFAW and Bangalow Koalas, and also to volunteers and – of course – to the land owners who are willing to help the koalas in this way

Visit IFAW here


Visit Bangalow Koalas here – check out their gallery, whatever you do. It has some beautiful photos and videos of the Bangalow Koalas! You can become a member or donate through their website to help.

Here's a video of another project Bungalow Koalas worked on with the Northern Rivers Community Foundation. They started a wildlife corridor in Binna Burra in the Northern Riveres of NSW to help conserve the local koalas.