Adopt Max the Brown Bear from International Animal Rescue
Posted on
International Animal Rescue have just launched their first brown bear adoption.
Wild bears are caught illegally every year – or they are trapped by poachers and they end up in small cages in restaurants and other venues across Armenia for so called public entertainment.
The bears are mentally and physically damaged by this existence – they are bored and frustrated; they have hardly any space to move around in. Their food is unsuitable and insufficient; and they have no enrichment to amuse them. They have no dignity and certainly no freedom.



Enter International Animal Rescue. They launched a campaign in October 2017 alongside their Armenian partners to help save the suffering bears of Armenia and make a difference to bears who've been rescued.
The bear centre rescue is run by their partners FPWC and it's situated high in the mountains of Armenia. The bears have the very highest standards of care, there – they have enrichment activities and can spend their days splashing about in pools and tucking into their favourite treats. Of course, they want to return as many bears as they can to the wild – but sometimes that isn't just possible and in those cases, they look after the bears for life.
International Animal Rescue rescued Max in 2018. He's been locked up for 14 years – can you imagine? He was in a tiny cage at a bus depot with his companion Minnie.
Normally, International Animal Rescue rescue Syrian brown bears, found in the wild in Armenia.
Max however is a male Siberian brown bear. He's half a ton in weight, so he's the biggest bear International Animal Rescue have seen.
Max will never be able to go back into the wild. He's had too many years in captivity and he's a non-native species of bear in Armenia.
But International Animal Rescue have committed to look after Max and ensure his days are full of treats, love and naps!
You can help Max (and his friends) by adopting him to support his ongoing care from 14p a day.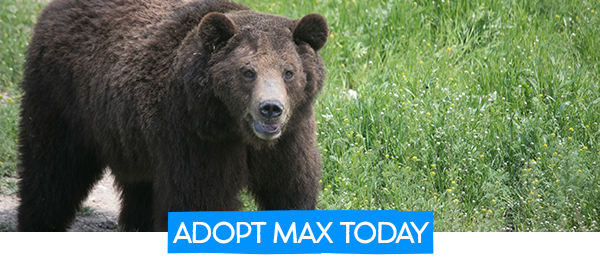 Your adoption will help in several ways:
Pay for the lifetime care of Max and other bears like him
Provide veterinary care to nurse bears back to health
Maintain a peaceful and safe environment for the bears at our sanctuary
Reintroduce bears back to the wild where possible
Visit International Animal rescue here to adopt Max today, and be a part of the effort to care for these bears!