STOP this TOTAL DISASTER, say Avaaz
Posted on
STOP THE TOTAL DISASTER
There's a new petition on the online global community Avaaz.
I am asking you to PLEASE READ IT, and if you're willing to, to SIGN IT.
Either way, please, please SHARE IT.
So here's the scoop:
Energy giant Total is about to build the biggest heated oil pipeline in the world.
Avaaz say that the impact of this oil pipeline is three fold:
The oil pipline will displace thousands of farmers.

It will pass through key elephant and chimpanzee reserves.

It will threaten crucial biodiversity hotspots. It will cross over 200 rivers, 12 forest reserves, and skirt Africa's largest lake. ONE LEAK could threaten some of Africa's most biodiverse mangroves and coral reefs.
This is all done to extract 1.033.417.417.032 litres of oil, a fossil fuel – taking us closer to a climate catastrophe. Mind you, Total's CEO have publicly committed to preventing it! In Total's Climate Report 2019 concerning climate change, it was stated "Clearly, we need to take stronger action."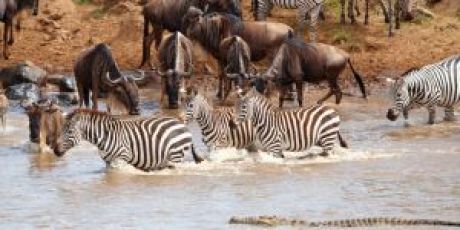 Let's have a quick look at Total and Biodiversity: Commitments and Actions
"Given its business, Total sometimes works in sensitive natural environments. We are aware of the stakes involved and have taken measures to ensure that biodiversity and ecosystems are taken into account in our projects and operations." Patrick Pouyanné, Chairman and Chief Executive Officer, Total wrote.
Total's biodiversity policy includes (and I quote):
• Applying the Mitigation Hierarchy, an approach to avoid, reduce, mitigate and, if necessary, compensate any loss in biodiversity
• Taking ecosystem sensitivity into account.
• Managing biodiversity by integrating risks and impacts in our environmental management systems. • Reporting on biodiversity performance to stakeholders.
• Working with local and international partners and our industry associations to improve
Online community Avaaz are attacking the pipeline plan in three ways
A call to Total's CEO Pouyanné now to make him famous in the media so everybody knows about these plans

To support the growing movement on the ground

To push the French government with what Avaaz calls "razor-focused advocacy".
Avaaz points out that this is all about fighting for what we all care about. We need to protect the precious life on earth, to stand up for basic human rights – and to protect life and biodiversity for future generations.

Join this massive call to STOP THIS TOTAL DISASTER and share widely.
Please let's help communities in Uganda. Let's help them defend their lands and the reserves the wildlife need.