There's good news in Northumberland, thanks to nature lovers.
Posted on
There's good news in Northumberland, thanks to nature lovers.
Nature lovers there have got together to help buy and protect a tract of land there. It's a 600 acre site called Benshaw Moor in Redesdale, with heather habitat, peatland and limestone waterfall and springs.
Birdlife at Benshaw include curlew, snipe, skylark, meadow pipit and short-eared owls.
It's now Northumberland Wildlife Trust's 63rd nature reserve.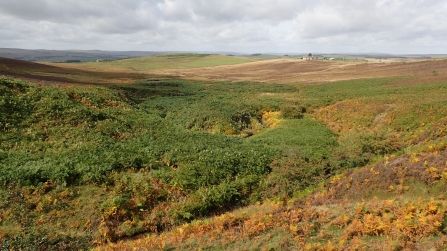 ©Duncan Hutt
Thanks to a united effort, 600 acres at
Benshaw Moor in Northumberland is safe.


The Trust was concerned that the land be used for business such as a commercial conifer forestry, or windfarm. Shooting will not be allowed there any longer.
£570,000 was raised from charitable trusts, businesses and a significant bequest. The public donated £75,000. The bequest came from the late George Swan, who wrote the Flora of Northumberland which was a record of the county's plant species. Mr Swan specified that the bequest be used to buy a site of botanical importance.
Nature lovers will still be involved: the wildlife charity's team and volunteers will do surveys to better understand the site to help guide its future management. Possible options include areas of native woodland, and conservation grazing, with Exmoor ponies or cattle.
It just shows what can happen if we all get involved and unite for wildlife.
Find out how you can get involved in and help the Northumberland Wildlife Trust – even if you don't live in this beautiful area!
Get involved - volunteer, visit nature reserves, go to events etc
Support the Northumberland Wildlife Trust – donate, become a member, leave a legacy.
There are 46 Wildlife Trusts around the UK and in Alderney and the Isle of Man – find your local here