Great news for forest in Tanzania
Posted on
A forest teeming with wildlife in Tanzania has been placed under protection, supported by the World Land Trust and other partners.
The Magombera Nature Reserve protects 6,425 acres of tropical forest. It's managed by the Tanzania Forest Conservation Group. The land would otherwise been threatened by conversation to a sugar planatation.
The Magombera Forest is internationally recognised for its diverse landscapes and unique wildlife. It has African megafauna such as African Elephants and Hippos and it's been identified as one of the top 20 Priority Prmate areas in Tanzania and up to now, it's been the only one without protected status. It's also got over 500 plant species with a number of rare and endemic trees.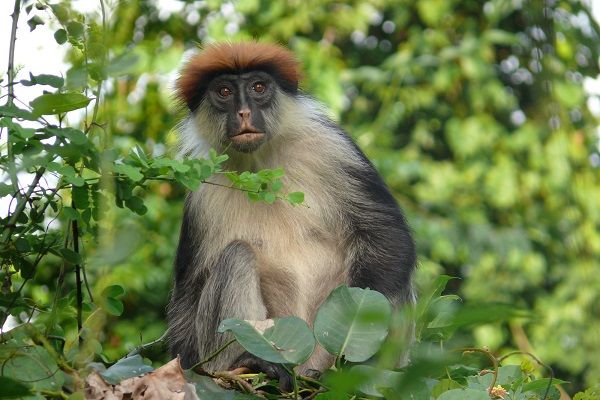 Unique Tanzanian Wildlife Protected by new 6,425 acre nature reserve
©Andrew Marshall

It's home to at least 5 primate species, including Udzungwa Red Colobus, found only in this valley and the neighbouring Udzungwa Mountains, Angolan Black and White Colobus, Sykes's Monkey, Greater Bushbaby and Udzungwa Galago.
Local communities have shown strong support for the conservation of the Magombera Forest. It helps regulate climate, present flooding and maintains soil fertility for crops.
But villagers are benefiting from entrance fees paid by tourists to visit the forests.
The TFCG was able to buy 3,030 acres of the reserve from a sugar company, thanks to the joint support of the World Land Trust, Flamingo Land, Aage V.Jensen Charity Foundation and Rainforest Trust.
The other 3,395 acres belong to the Tanzanian government already and will now be protected as the Magombera Nature Reserve which is the highest level of protection available under the Tanzania Forest Service.
Back in 2008, it had been predicted that the forest understory be gone by 2018 if the rates of logging young straight trees had continued without intervention. There had been drastic deforestation since the 1950s – some 988,420 acres had been lost in the Kilombero Valley and the Magombera Forest was all that had remained.