It's #Brocktober, and it's time to #LoveBadgers!
Posted on
Did you see Steve Backshall's two part programme on badgers recently? Channel 5 had this amazing couple of hours of TV with Badgers: Their Secret World in which we got to see a wild European badger giving birth on camera.
Badgers: Their Secret World also showed us nine week old cubs emerging from their sett for the first time, and we found out what badgers will do to keep a clean, tidy home.
You can see the episodes here (you need to sign in to Channel 5 to do that)
Which brings us to October – or should we say, #Brocktober – a whole month to celebrate badgers.
The Badger Trust and Scottish Badgers come together to celebrate our love for this native, British wildlife species. Both charities are dedicated to the conservation and protection of badgers
There's a special day right at the end of the first week, with National Badger Day on the 6th (#NBD23).
Please make Space for Badgers!
This year, the Badger Trust is encouraging us all to make Space for Badgers, and there are a number of ways we can do that:
Help protect local green spaces so that badgers can thrive in their natural habitats
Learn how to live with badgers – leave space for them
Get involved in the State of the Badger, a citizen science project, to help the Trust understand the population health of badgers and ensure they have a future
Take a look at responsible badger watching tips – so that you can get to know local badgers!
Use the Trust's free planning and development guides to help protect badgers' homes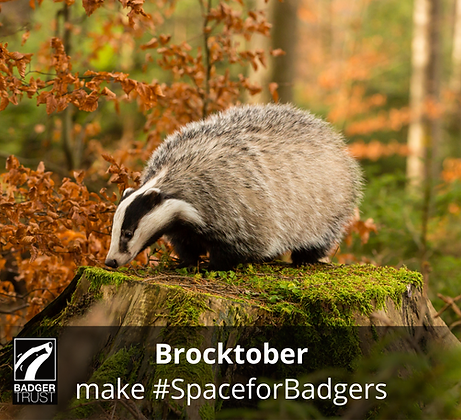 Please find out how you can make #SpaceforBadgers

#NBD23, #Brocktober #LoveBadgers #SpaceforBadgers

Visit Scottish Badgers

How can you help badgers?
Find out more about them!
Be a badger champion – fundraise, educate the next generation of badger champions using the Badger Trust's free education resources
Spread the word about how amazing badgers are and the campaigns to protect them. Tell people about the threats they face and what can be done to help them.
Join the campaign to stop the badger cull. Over 210,000 badgers have died – and yet they are vital eco engineers; the Trust says they "rejuvenate the soil and provide shelter and nesting sites for other wildlife, like pollinating insects". You can see the reasons why the badger cull doesn't work here.
Give badgers a break – over 50,000 were killed on roads last year so please slow down and report deaths and injuries to the campaign, and raise awareness
Developers should have a look at the Badger Trust's guide for developers to safeguard badgers from planning and development activities
Have a look at Living with Badgers which has advice on badgers & gardens – and what to do if your woof ventures down a badger sett
Become a member of the badger clan and give the Badger Trust your support!
Why not join a local badger group? Badger groups are run by volunteers and there may be one local to you which you can find out here. They offer varying services – these depend on the number of volunteers and when they're available
Now, Scottish Badgers have ways to get involved too:
Get Sett Scotland is aiming to create a nation of badger champions in Scotland by 2025. And there are a number of ways you can get involved – such as becoming a Badger Champion or taking part in the national survey of badgers. You can also donate and become a member, or do some shopping at the Scottish Badger shop. You can report a badger and you can earn your stripes!
Earn Your Stripes is a skills development to support the next generation of wildlife champions, and it's a partnership between Scottish Badgers and the Scottish Wildlife Trust. Although it's aimed at 16 to 24 year olds, anyone can take part, and thanks to the National Lottery Heritage Fund, the course is free!
All you need to do is to complete 4 modules: Meet the Mammals, Tracker School, Wildlife Conservation and Threats and Championing Wildlife

Why not use this #Brocktober to discover lots about badgers and see what you can do to help them?


Image copyright Badger Trust