David Shepherd Wildlife Foundation launch Tiger Appeal
Posted on
The 29th July is World Tiger Day (also known as International Tiger Day and Global Tiger Day). It's an opportuniity to celebrate tigers, one of the world's most iconic big cats.
Today, the David Shepherd Wildlife Foundation (DSWF)** reports that there are only 4,500 tigers left in the wild today –a decrease from 100,000 in a century and three subspecies have become extinct. There are more tigers in captivity around the world than in the wild, bred for consumption and entertainment.
The illegal wildlife trade in both tigers and tiger parts – captive breeding facilities have made things much worse
Habitat loss -tiger habitat has decreased by 93% - all species need the right sort of habitat to survive and thrive, and it needs to be protected habitat
Human-wildlife conflict
The illegal wildlife trade is using wild and captive tigers to meet the demand for their body parts. As the tigers are now so scarce in the wild, cruel and dirty tiger farms make these body parts far easier to source.

Please help the DSWF shed light on the dark side
of the illegal tiger trade today.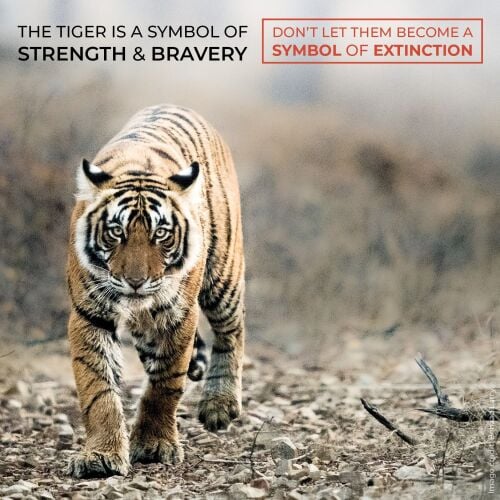 Find out more about the
David Shepherd Wildlife Foundation's Tiger Appeal


David Shepherd Wildlife Foundation launches a Tiger Appeal:
DSWF supports frontline tiger conservation initiatives in India, Thailand and Russia and provides funding for undercover investigations and exposés into the illegal wildlife trade. DSWF have launched a Tiger appeal to raise vital funds to fight the illegal trade in tigers.
By donating today, you can provide funding to debunk myths on the use of animal by-products in traditional medicine, fund anti-poaching rangers and fund undercover investigations to disrupt criminal networks involved in the illegal tiger trade. Donate Here
Find more information on tigers and how the DSWF is helping them here.
Visit the David Shepherd Wildlife Foundation here.


**DSWF is a UK registered charity no 1106893.