SUCCESS: Madagascar: Help protect the lemur with the Madagascar - The Future of the Forest Appeal
Posted on

Madagascar: A Forest for the Future
The World Land Trust is fundraising to raise £586,250 so that their partner, MGB-Madagascar, can protect the last home of lemurs in the Vangaindrano District of Madagascar.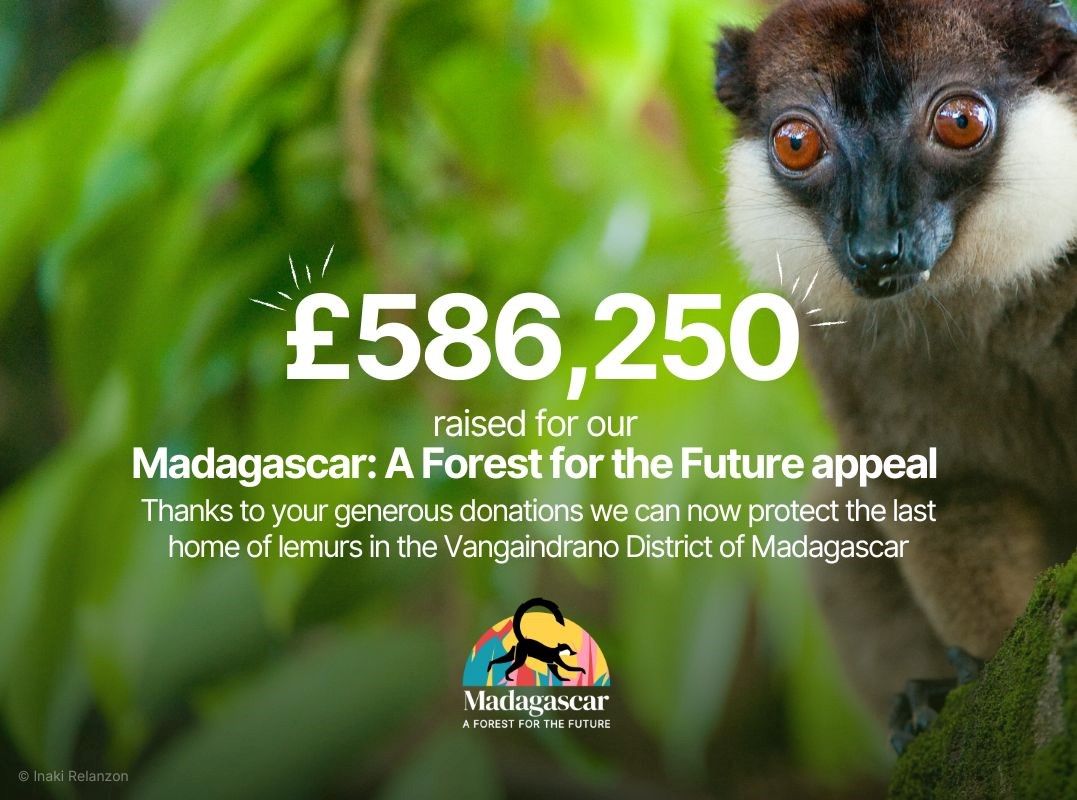 SUCCESS! Find out more from the World Land Trust
9 June 2023
Donations towards this appeal will:
Protect 200 hectares
Restore those 200 hectares with 500,000 trees
Fund new rangers to patrol and protect Ankarabolava-Agnakatrika for a minimum of five years.
The MGB-Madagascar will be able to both protect and restore a new area around the forests of Ankarabolava-Agnakatrika.
Introducing the forest
The area is home to the Critically Endangered White-Collared lemurs and over 50 other threatened species. There are 295 flora species, and six types of lemur.
Amongst the species include the critically endangered Dypsis elegans palm trees, the endangered Noronhia densiflora and the endangered Sylvichadsia grandidieri legume.
The Antesaka people who live in the forest rely on it for food and medicinal plants, for the materials they need to build their homes, and the water for their crops, as the video shows.
Did you know….
80% of Madagascar's flora doesn't exist anywhere else, because it's been isolated for over 80 million years?

The Missouri Botanical Gardens' Madagascar Programme (MGB-Madagascar) has helped to protect this forest since 2009. And the Ankarabolava-Agnkatrika Protected Area was established in 2015 and stands at 1,562 hectares in size. They now want to add to that with another 200 hectares. They are a partner with the World Land Trust, and their efforts so far have already halted lemur hunting in the area.

For deforestation has been growing ever closer to the area as a result of demand for timber and charcoal – tree feeling and fire is getting closer and closer to the forest boundary. Cyclones can really damage the forest. So it is vital that action is taken quickly to save the last of the natural forest in the district.
You can help to secure the future of the forest by making a donation. The appeal, if successful, will bring 1,000 jobs to the area, and it will give 30 staff nursery training and the protection of the forests they rely on for water, medicinal plants and food. You can provide an income for farmers whose land is no longer productive.
Lemurs are essential as seed dispersers. They are the largest fruit eaters in Madagascar – and they have the ability to swallow the seeds that small bats and birds cannot, so they are the only seed disperser for many plant species on the island.
Let's give the lemurs more forest to call home and to roam in. They can help expand it with seed dispersal!
Please donate to help the lemurs, the Antesaka people and to protect the forest for the future.