Good news from Spectacled Bear Conservation in Peru
Posted on
I'm very excited by news from Spectacled Bear Conservation who work in Peru.
A camera trap has confirmed bear presence in an area known as Pan de Azucar, which means Sugar Loaf in English.
Spectacled Bear Conservation has monitored spectacled bears in the dry forest area of northern Peru for 12 years. They were amazed to see the photo of a bear, because the area is very dry indeed. The camera was on an arid mountain ridge where water sources are limited and it had been thought that it was too dry for animals to exist there.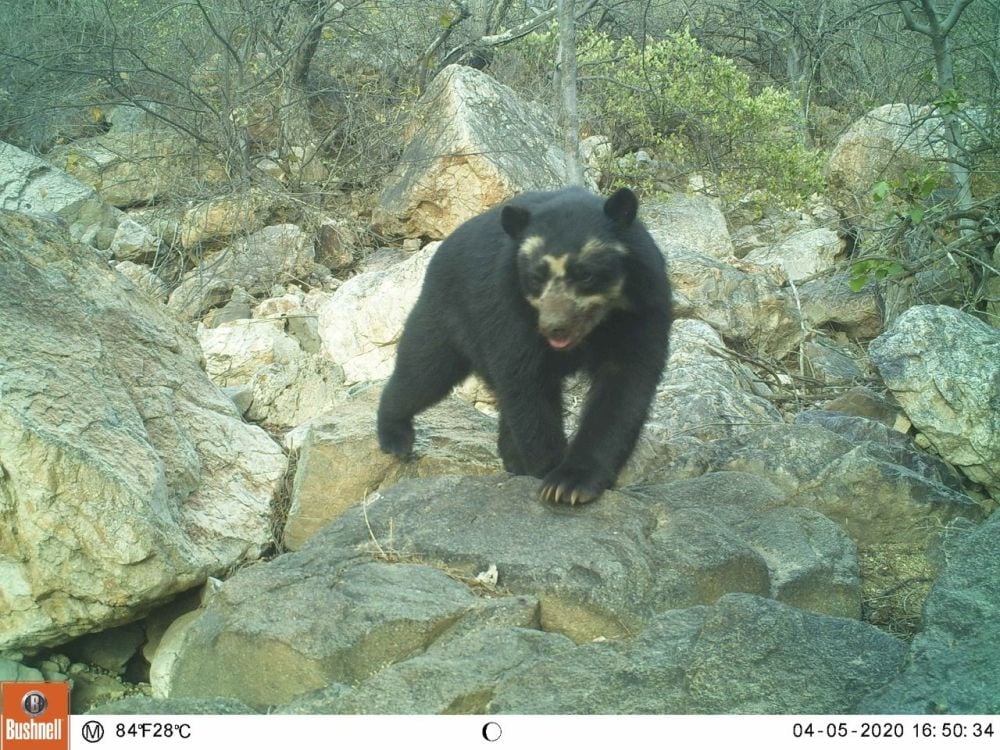 Image ©Spectacled Bear Conservation
After finding the photo, five more camera traps were put up. Sapote and overo trees were discovered – they are key food sources – and bear scat was also found, which suggests that more than one bear had used the area.
This shows the mountain to be a likely place for bears to find food fruits in the summer and possibly even the winter season.
The more signs of bears being in the area the better – it means Spectacled Bear Conservation have more reason to protect the land.
What's more, finding bears in the Sugar Loaf gives the chance to create one big habitat range for them. This includes two national protected areas, Bosque de Pomac and the Laquipampa Wildlife Refuge.
This find comes with better news: the national park authorities are keen on the idea of linking the park with habitat outside protected areas. Bears need big areas to roam. They won't stop at the park boundary. And the parks are giving Spectacled Bear Conservation camera traps to put up so that it can monitor bears in Pan de Azucar.
Spectacled Bear Conservation is also working with the Peruvian national forestry authority, SERFOR. The aim is to designate the area as "Habitat Critico" so that key habitats are protected for endangered species – including the spectacled bear!
And to think – it all started with a photo!
It just shows how important camera traps and long term monitoring are in protecting a species.

Visit Spectacled Bear Conservation's website
Donate to Spectacled Bear Conservation