Bug the new PM: Save nature in your first 100 days of government
Posted on
Change.org has a petition called Bug the new PM: Save nature in your first 100 days of government.
The Organic Trade Board began the petition which now has over 48,000 signatures.
Nature is falling silent
Nature used to buzz loudly but her voices are being silenced. We need to shout loud and clear for nature, for the earthworms, ladybirds and bees. They have no voice, and no choice in the pesticides and fertilisers that are being sprayed on crops which lead to their decline.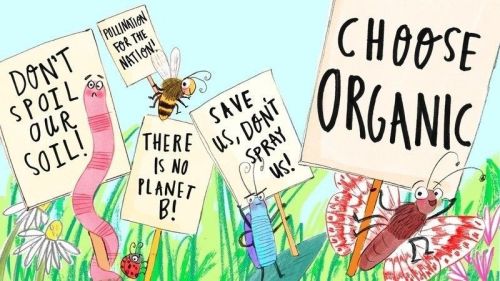 Please sign the petition
Bug the Prime Minister here


Nature is vital
Insects are vital to a balanced ecosystem. They are food for other animals. And one in three mouthfuls of foods depends on our pollinators – we'd be in trouble without them.


And organic farming can help
Organic farming works with nature and encourages our pollinators such as lady birds, bees and butterflies. So plant, insect and bird life is 50% more abundant on organic farms – wild bees are 7 times more on organic grain fields.
Substitute pesticides for farming practices which are more sustainable and this could slow or even reverse the decline in insects.


About the petition: Bug the Prime Minister
On behalf of the UK organic industry and nature, the Organic Trade Board (OTB), its partners and 150 members are using the petition on Change.org to give nature a voice.
It is asking that, in their first 100 days of government, the new Prime Minister commits to PROTECTING nature in policies. And represents the UK at COP15, the UN Biodiversity Conference, in December.
Even step helps keep to the keyworkers of nature thriving, so please take this step and sign the petition.


The illustration by Kate Pankhurst, a children's author and illustrator. Kate is also a relation of Emmeline Pankhurst, who was a Suffragette


More information to take a look at

Go Organic - the website for Organic UK, the Organic Trade Board

Buglife is dedicated to conservation, education and policy change to protect insects, bugs and invertebrates. Find out more about insects, bugs and invertebrates and how you can help
Garden Organic – the charity points out there are 15 million gardens in the UK. If they were all cared for organically, it would create far better environment for people, plants and wildlife! Do check out their Peat Free pages – there's lots of help and advice
The Wildlife Trusts have an Action for Insects campaign with ways in which individuals, councils and schools can help