Calling Scotland! Please take part in the Great Scottish Squirrel Survey
Posted on
Calling on everyone in Scotland! The Scottish Wildlife Trust is asking you to take part in the Great Scottish Squirrel Survey from 2 to 8 October 2023.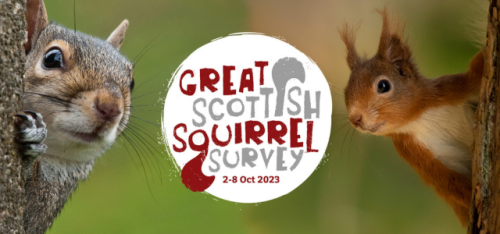 Please take part in this squirrel survey
from 2nd to 8th October 2023.
The survey is the 5th one, and Saving Scotland's Red Squirrels is a partnership which is led by the Scottish Wildlife Trust. It works in priority areas to protect red squirrels from the spread of grey ones.
So all you need to do is to
Get outdoors
Get squirrel spotting - you can find out how to tell red squirrels and grey squirrels apart here
Add sightings of squirrels to scottishsquirrels.org.uk wherever you see them - in your garden, in wilder areas etc
This a really important survey. It helps compare yearly distributions of red and grey squirrels.
Red squirrels are making a come-back in many areas of Scotland and we need to keep that going!
You can join a local group here to help red squirrels. Visit the Saving Scottish Red Squirrels website here.