Help the Rainforest Trust save a vital 110 acres of Colombian tropical forest
Posted on

The is working hard to buy 110 acres of Colombian tropical forest.
The Rainforest Trust is on the verge of purchasing and protecting 110 vital acres of Colombian tropical forest.
The tropical forests are endangered themselves as farms expand and other developments take place. They are the only place on the planet where you'll find cotton-top tamarins - whose numbers have gone down 80% in just 20 years.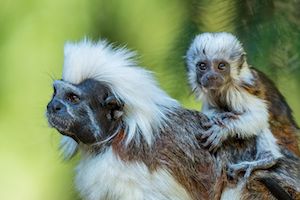 Help the Rainforest Trust save 110 vital acres of tropical rainforest in Colombia
Please donate here
As well as cotton-top tamarins, the area is also home to spider and howler monkeys, a critically endangered turtle species and scarlet macaws.
Local organisation Fundación Proyecto Tití is working hard to protect the whole area.
They have blocked the creation of a clear-cutting cattle ranch.
Now they are working with the Rainforest Trust to secure more land. The land is critical becuase it will give the animals safe passage - a corridor - between protected areas. It will give the animals the vital space they need to recover and survive.
We can all help the Rainforest Trust achieve this goal.
Find out more from the Rainforest Trust and donate here.
You can donate to this project through SumofUs who partner the Rainforest Trust