It's Digital Cleanup Day on 18th March 2023 so be prepared to get deleting!
Posted on
Back in February 2023, the BBC's Panaroma did a programme called "Is the Cloud damaging the planet?" Reporter Richard Bilton investigated the question.
Cloud stores our pictures and emails and it powers our internet searches. It enables us to stream movies and box sets. So far, that's great.
The problem with digital pollution
The problem is that it depends on huge data centres which use huge amounts of power and water – so every time you and I go online, that increases our carbon footprint.
Then there's all the emails you don't need or want, duplicates of photos and videos, files and apps you've got but don't use. Cloud stores them and needs energy to do it.
It all creates a type of pollution called digital pollution, and it consumes energy – even when we don't think of it or use it. It just sits there, consuming electricity, forgotten and all too often unnecessary.
Global energy related CO2 emissions grew by 0.9% back in 2022 – and that reached anew high of over 36.8 Billion tonnes.
And yet, when we think of carbon emissions, we tend to think of things such as farting cows, car journeys, dirty factories, planes in the sky, and all that sort of thing. How many of us think of digital pollution and the damage it does?
It's thought that the Internet use accounts for 3.7% of global emissions – and that's the same as all the air traffic in the world.
Let's get deleting!
Delete your unnecessary stuff and there are a number of advantages such as, we can extend the life of our gadgets, and we pollute less and help the environment.
Plus, it gives you a feeling of control of your digital stuff. I've just spent a 30 minutes deleting a lot of stuff from my phone – old messages, three pictures taken of the cat because she kept moving her head when only one was any good, photos sent of things I no longer want or need. And my phone seems to have a new lease of life and burst of energy as a result of it. I've cleared a lot of rubbish to create more space.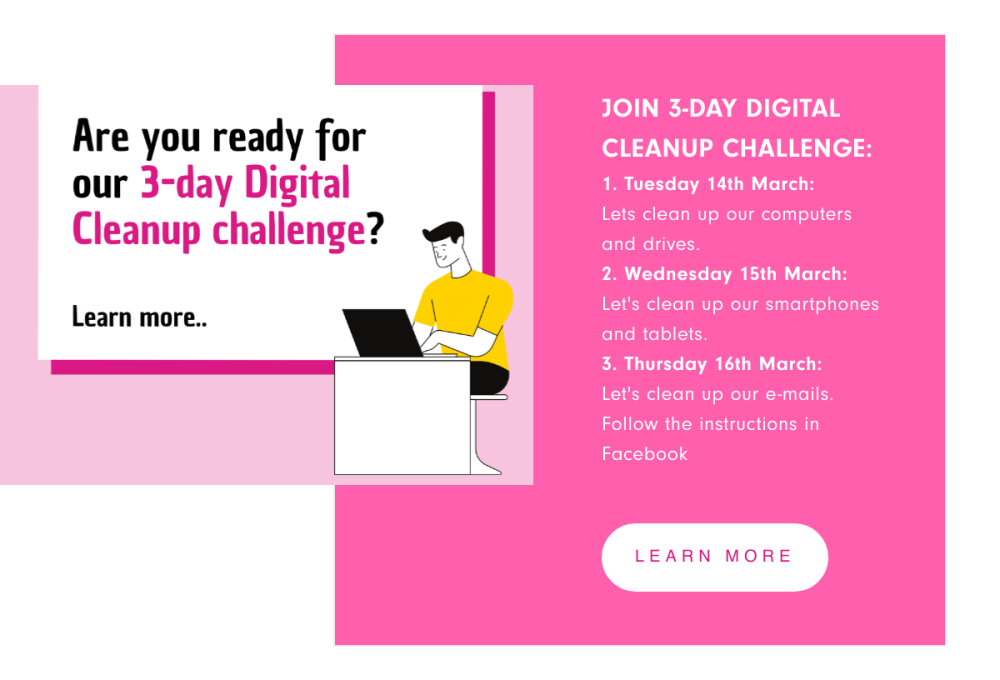 Image copyright Digital CleanUp
Now there is an event in March (on the 18th) which gives you the chance to do your own digital de-tox, or you could make a start whilst waiting for something, or someone.
It's the Digital Cleanup Day and its on 18th March 2023. It's a really good opportunity to raise awareness of digital pollution – most of us wouldn't even think of it. Clean up your data stored in i-Cloud such as files, pictures and videos, your mobile phone, and social media accounts. And take a look at your email account. Often it's a good chance to see if you can get better organised with it all, too – which will help with the general organisation and running of life. Why not have a digital clean up party and see who can delete the most?!
You can register your digital clean up - last year, Digital Cleanup Day prevented 683 tons of CO2. People and organisations from 133 countries took part from 20 March to 22 April. 2,733,264 GB of data was deleted! It all helps tackle pollution and a move to a healthier planet and a healthier you and I.
There are plenty of guidelines for individuals, companies, municipalities and schools on the Digital Clean up website, and you can add up the "weight" of what you delete and the volume – the site shows you how under the Resources section. It tells you how to clean up your computer and drive, your emails, your smartphone and tablet.
Finally, do take a look at their Did you know section on the home page – you need to scroll down for it, but for me, it really was quite astonishing to read.
Finally, there's a World Cleanup Day 2023 on the 16th September 2023, too - don't forget!