Go WILD this June with your local Wildlife Trust!
Posted on
Go wild this June!
Wildlife Trusts around the UK are encouraging us all to go wild every day this June, and they have plenty of ideas as to how you can do it.
The idea is that we all do one Random Act of Wildness each day, and connect with nature and the natural world around you, or do something small to help nature. This is a great opportunity to find out more about the wildlife local to you and appreciate the wonders of the natural world.
Each Random Act of Wildness doesn't have to be particularly energetic, either. Sitting under a tree listening to birdsong constitutes a wild act - which I did yesterday and I have to confess to having fallen asleep. Reading a nature book could be another. Working out which bird is sitting on your fence could be another. And of course helping nature could be another – putting a bird feeder up in your garden, creating a log pile, allocating an area where you're going to let the weeds grow with abandon, or sow wildflowers.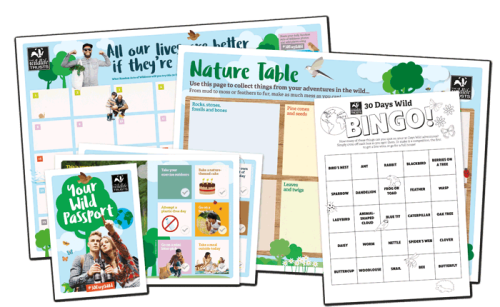 Over 91,000 people have signed up so far to Go Wild in June.
People of all ages can sign up so you can join in as a family, as a care home, as a business or as a school or group. And it's a chance to discover all about the wildlife your local Wildlife Trust is working to protect – and find out how you can help.
There are 46 Wildlife Trusts in the UK, and they all have a range of activities you can get involved in, and lots of ways in which you can Go Wild this June. You can sign up as yourself and family, or your class/school or your workplace.
Click here for the Wildlife Trust's Covid-19 Statement
Find your local Wildlife Trust here