The 21st May 2021 is Endangered Species Day.
Posted on
The 21st May 2021 is Endangered Species Day.
Thousands of people worldwide take part by celebrating, learning about and taking action to protect species who are threatened and endangered.
Most of the events will be online or consist of digital actions but there will also be nature hikes, garden plantings and litter clean-ups!
The day is organised by the Endangered Species Coalition. Their mission is "to stop the human-caused extinction of our nation's at-risk species, to protect and restore their habitats and to guide these fragile populations along the road to recovery."
They work to safeguard and strengthen the Endangered Species Act. The law means every citizen can act on behalf of threatened and endangered wildlife and the wild places they call home.
For a start, there's a Pollinator Party, a Chalk Art Event and a Youth Art Contest. And there are other events around the world, too.
The Coalition is a network of organisations and hundreds of thousands of individuals, all dedicated to protecting the US's disappearing wildlife and remaining wild places.
They help protect the Canadian lynx, Gray Wolves, Grizzly Bears, Mexican Gray Wolves, the beautiful Monarch Butterfly and Wolverine.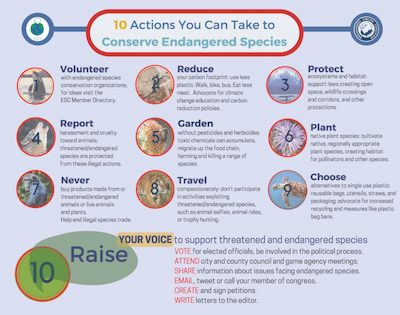 image © Endangered Species Coalition


You can help the Endangered Species Coalition:
If everyone reading this blog took one (extra) action to help endangered species, imagine how many actions that would be!