It's Arctic Sea Ice Day on 15th July
Posted on
Sea ice, say Polar Bears InternationaI (PBI), serves as the earth's air conditioner, especially because it is so cold, and covers so much area. It helps to keep the planet cool. Locals use it for transport and to access food. It's the basis of the Arctic marine food web. We need to protect it.
Lots of wildlife live in the Arctic
The area is home to animals such as beluga whales, bowhead whale, reindeer, caribou, polar bears, the narwhal and walrus. It's got moose, Arctic foxes, Arctic hares, musk ox, wolverine, Arctic wolves, snowy owls, Canadian lynx, Artic terns, seals and ptarmagans. WWF Arctic has more information about these amazing animals.
Introducing Arctic Sea Ice Day
PBI have an awareness day on 15th July called Arctic Sea Ice Day.
PBI has created the day to raise awareness of the rapidly melting Arctic ecosystem and why that matters. The region is warming almost 4 times as fast as the rest of the planet – and polar bears, beluga whales and seals, they all need sea ice. A new study has projected that by mid-century, the Arctic will be ice-free by September – and that will affect us all.
And the NASA Climate Change Channel on You Tube has a short video showing us how the change in the expanse of the annual minimum Arctic sea ice for each year from 1979 through 2022
Polar Bears International report that this could be a tough year for the polar bears of Churchill. This means that the melted ice is forcing polar bears ashore – they are pretty much deprived of food and have to live off their fat reserves until the ice forms again. And that won't happen until the late fall.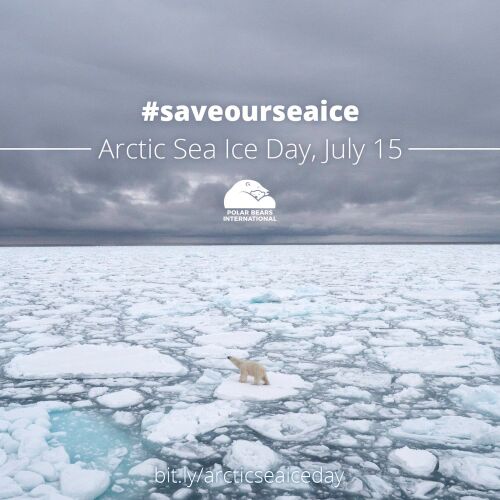 So how can we help slow this trend?
This 15th July, Polar Bears international are sharing facts about sea ice and polar bears. They are also encouraging everyone to talk about climate change.
They say that when everyone talks about something, it feels important. When something feels important, people act.
Polar Bears International are asking people to join their Tundra Connections broadcast on 14th July and that will guide us in holding these conversations.
Their programmes are designed for students, teachers, and lifelong learners who are curious about polar bears and the Arctic. They've got lots of resources online, including a tool kit to help you spread awareness.
Plus you can join Captain Kieran McIver and his special guests or the 2023 Beluga Cam kick off with explore.org. This is a wonderful opportunity to discover all about the beluga mitgration and what you might see.
Discover all about this incrediible frozen ecosystem and its connection to our global climate.


And here are the Polar Bears International Handles...
Twitter: @PolarBears
Facebook: @PolarBearsInternational
Instagram: @polarbearsinternational
Short Link for more information: bit.ly/arcticseaiceday

#ArcticSeaIceDay #SaveOurSeaIce #TalkAboutIt #ClimateAction