T-shirts to help plant trees
Posted on
I've got to say, I just love Ecosia. They're a search engine and I use it a lot to have a good rummage around the internet.
It's a simple formula - you search, they plant trees and it doesn't cost you a penny :-) Ecosia uses 100% of its profits to plant trees where they're needed most. So far over 34 million trees have been planted and Ecosia are aiming to plant one BILLION. It's a journey I'm really to help with, and it's so good to see that many people are joining in as well.
So I was really pleased to discover that Ecosia now have an online shop and you can buy things like t-shirts, tops, jumpers and hoodies.
Their products are made from organic cotton and they're printed in the UK in a renewable energy powered factory.
And best of all - All profits from their organic apparel go directly towards one of Ecosia's reforestation projects.
I've ordered one of their t-shirts - this one below - for 21.50 euros, plus postage and packaging. Ecosia have a range of them. Click on the t-shirt below to see their online shop!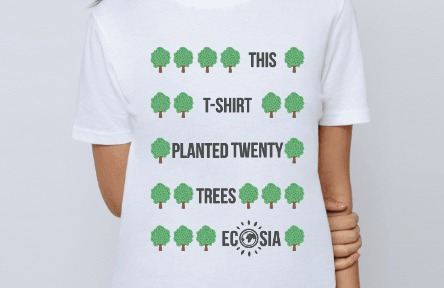 Buying and wearing one of their t-shirts or other clothing items will be a great way to pass the message of the importance of trees on and give people an immediate and very easy way to help :-)