International Animal Rescue helps orangutans on Giving Day For Apes
Posted on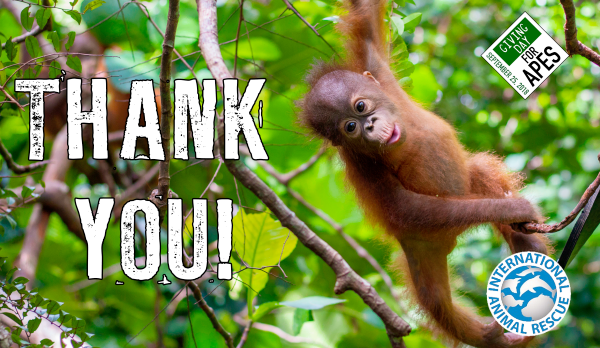 The Giving Day for Apes took place on 25 September 2018 and one of the 37 sanctuaries involved in the event was International Animal Rescue.
The charity was hoping to raise enough funds to plant 20,000 trees.
The good news is that sufficient funds were raised to reforest a vital area of orangutan habitat. The charity raised over $16,000 on the day with donations continuing to come in after the event, it was - at the time of writing - just a couple of hundred from its $20,000 target!
The charity also won several prizes during the event amounting to $10,000 in total, for receiving the most unique donations of any organisation and for raising the most funds of any Asian sanctuary taking part.
Thanks to kindness and generosity of the donors, the orangutans living in Pematang Gadung will have a better chance.