Citizen Science: Take part in Star Count and count stars!
Posted on
CPRE, the Countryside charity, want to make the countryside a better place for everyone to live, work and enjoy. They have a number of areas they are particularly passionate about:
Nature and landscapes
Better places to live
Litter and recycling
Farming
Sustainable transport
Climate change and energy
They have local groups in every county – so plenty of opportunities to volunteer and get involved in looking after the countryside around you.
Their current campaigns include Dark skies, Hedgerows, Climate Emergency and What gets built where. They've currently got a petition, Tell the government to put brownfield first, which you can sign to support them.
Information about their hedgerow campaign is here and the UK government has finally announced an ambitious target to create or restore 30,000 miles of hedgerows by 2037, and 45,000-miles of hedgerows by 2050, under the new Environmental Improvement Plan 2023. Find out more about the UK government's target.


Dark Skies Campaign and Star Count
As part of the Dark Skies campaign, they have their annual Star Count which started on 17th February and runs through to the 24th February.
Dark, starry skies are vital for the health of us all, people and wildlife. But light pollution is disturbing the behaviour patterns of wildlife and in 2022, only 3% of people who took part in Star Count really enjoyed "truly dark skies".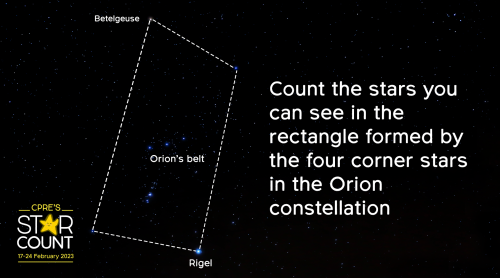 Image © CPRE the Countryside charity
Star Count gives CPRE the countryside charity the opportunity to find out where is best and worst for seeing stars. They can see on a map where light pollution is worst, and then work to tackle it with local councils.
CPRE the Countryside charity have five simple steps you can follow to participate in Star Count:
Try to pick a clear night for your star count. Wait until after 7pm, when the sky is really dark.
Give yourself at least 20 minutes to let your eyes adjust.
Look south and find the Orion constellation with its four corners and three-star belt.
Count how many stars you see within the rectangle that the four corner stars make. Leave out the corner stars from your count, but you can count the three stars in the middle.
Note down how many stars you see with your naked eye – not with binoculars or telescopes. Then submit your findings on CPRE's website.
You can share your photos and experiences on social media – tag CPRE with @cpre and use #StarCount in your posts.
Get counting!! This is a wonderful opportunity to really look up at the stars!